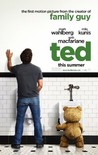 Starring:

Mark Wahlberg

,

Mila Kunis

,

Seth MacFarlane

Summary:

Family Guy creator Seth MacFarlane brings his boundary-pushing brand of humor to the big screen for the first time as writer, director and voice star of Ted. In the live action/CG-animated comedy, he tells the story of John Bennett, a grown man who must deal with the cherished teddy bear who

Family Guy creator Seth MacFarlane brings his boundary-pushing brand of humor to the big screen for the first time as writer, director and voice star of Ted. In the live action/CG-animated comedy, he tells the story of John Bennett, a grown man who must deal with the cherished teddy bear who came to life as the result of a childhood wish... and has refused to leave his side ever since. [Universal Pictures]

…

Expand
Director:

Seth MacFarlane

Genre(s):

Fantasy

,

Comedy

Rating:

R

Runtime:

106 min
Please enter your birth date to continue:
You are not allowed to view this material at this time.
The surprise of Ted is that it goes for honest Spielbergian wonder, too, and even earns some tears.

This is no-holds-barred humor of the finest, grossest kind, centered around the theme of arrested development.

A fabulous first live-action effort, combining R-rated hilarity with skilled storytelling as it slips some real heart into the stuffing of a toy bear.

The comic targets run the gamut - race, religion, relationships, reality, etc. While nothing is sacred, the sacrilege comes with just enough sweetness to offset the salt.

True chemistry is hard to find. And by some stroke of movie magic - or sheer skill - Wahlberg and the bear make a pretty great team.

You can find this clever, or you can find it lazy, and this is why MacFarlane is the biggest mixed blessing in contemporary TV comedy: He is both.

Seth MacFarlane's comedic modus operandi is to shock with outrageousness and pander with TV and movie citations via one non sequitur after another, a strategy that leads to a few laughs but nothing approaching lasting humor.
What a funny movie it is full of laughs if you enjoy humor and dont mind if the jokes are about sex,drugs and fat kids this movie is for you

What a funny movie it is full of laughs if you enjoy humor and dont mind if the jokes are about sex,drugs and fat kids this movie is for you not for the kids though

…

Expand

you can tell that seth macfalane made this from some of the cast down to his style of comedy i knew that this was going to be a good film hope

you can tell that seth macfalane made this from some of the cast down to his style of comedy i knew that this was going to be a good film hope a sequel comes out soon if not maybe put ted in family guy as a guest or even a little nod in one of those random scenes that has somthing to do with what one of the charecters said anyways watch this movie family guy fans you wont regret it

…

Expand

Seth MacFarlane's big screen debut comes in the form of Ted. As a fan of his work I was definetly looking forward to this. And largely, it's

Seth MacFarlane's big screen debut comes in the form of Ted. As a fan of his work I was definetly looking forward to this. And largely, it's hilarious! Ted is definetly the comedy of the summer, infact very possibly of the year. The film itself begins with a young John Bennett (Mark Wahlberg), a lonely child who upon receiving a teddy bear for his Christmas wishes he could talk. The next morning, John's wish comes true and Ted (Seth MacFarlane) can indeed talk and briefly becomes a celebrity. The film picks up in the modern day where John and Ted are living in Boston. Both, however are still childish, immature and spend most of the time smoking pot! John is also in a four-year relationship with the stunning Lori (Mila Kunis). During their anniversary Lori reveals that she wants more from their relationship but feels they can't move on with Ted around. This tests John's friendship to maximum as he tries to maintain his relationship with Lori and keep his bromance intact with Ted. It results in a fantastically funny comedy. It may seem juvenile but believe me Ted has a lot on offer! Wahlberg and MacFarlane nail the chemistry between their characters as they bounce of each other wonderfully well. Mila Kunis isn't just the eye candy as she fits in perfectly to MacFarlane's witty world of comedy once again. Ted is often hilarious and at times very rated-R, however not all the time, it's largely hit but does have a few misses along the way. What makes the film even more appealing is that at the heart of it is a tale of friendship, love and loyalty. Definetly the must see comedy of the summer and one that is throughly enjoyable throughout! MacFarlane's debut is hilariously impressive , if slightly drawn out but it all pays off in the end. So much so you may find yourself singing a certain Thunder Song the next time a bit of thunder is on the horizon. Dynamite!

…

Expand

Ted is a great movie. It's a film that anyone of any age can enjoy because it has a good story which is easy to follow, well directed and

Ted is a great movie. It's a film that anyone of any age can enjoy because it has a good story which is easy to follow, well directed and funny. The right actors were chosen, the length is perfect and it's never boring throughout. OK so maybe the film isn't as laugh out loud or ROFL funny as it could've been, and the story is somewhat similar to Garfield, but on the whole Ted is a solid film which is suitable for everyone.

…

Expand

Ok so let me tell you why everyone thing this was a beast of a movie: The ending is good, really good, and when you tell someone about a movie

Ok so let me tell you why everyone thing this was a beast of a movie: The ending is good, really good, and when you tell someone about a movie you have seen, you obviously have the ending in mind more than the rest of the movie. Whatever, I think it still wasn't a bad movie at all, i laughed, but i honestly think a movie like this has a very limited audience, maybe teens, but still not every ''teen'' enjoys this type of comedy...

But yeah i would still watch the movie if i was you reading this review.

…

Expand

Un film moyen avec des personnages plutôt drôles mais ce sont les enchainement de "gags" qui sont selon moins en dessous. Dommage. Un film

Un film moyen avec des personnages plutôt drôles mais ce sont les enchainement de "gags" qui sont selon moins en dessous. Dommage. Un film sans plus.

…

Expand

This movie was incredibly boring unless you think smoking pot,and having sex is funny. With such a heavy reliance on pop culture this movie

This movie was incredibly boring unless you think smoking pot,and having sex is funny. With such a heavy reliance on pop culture this movie will drift into meaninglessness in a mater on months. I find it surprising that some many reviewer though that this had any real substance because I can't see any, other than some mediocre animations.

…

Expand