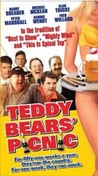 Starring:

Morgan Fairchild

Summary:

A comic junket behind-the-scenes of the world's most exclusive power-broker retreat. The true story: the richest, most powerful white men in America gather each summer in Northern California for a super secret retreat that takes them back to their sophomore year in college. For fifty-one

A comic junket behind-the-scenes of the world's most exclusive power-broker retreat. The true story: the richest, most powerful white men in America gather each summer in Northern California for a super secret retreat that takes them back to their sophomore year in college. For fifty-one weeks a year they run the country. For one week they run amuck. They're there to unwind, but they get really unwound when that secrecy is threatened. (Visionbox Pictures)

…

Expand
Director:

Harry Shearer

Genre(s):

Comedy

Rating:

R

Runtime:

80 min
Feels conceived and shot on the fly -- like between lunch breaks for Shearer's radio show and his ''Simpson'' voice-overs.

Despite its intelligence and a great, funny concept for a movie, this "Picnic" never gets past the appetizers; pic lacks the development needed for a full-length feature and, following a hilarious opening sequence, it becomes tiresomely one-note.

Falls short of the mark, content to shoot fish in a barrel.

It doesn't meet the minimum number of laughs to qualify as a comedy -- two would have clinched it -- and it's far too asinine to be taken seriously.

It's utterly frustrating: What could and should have been biting and droll is instead a tepid waste of time and talent.