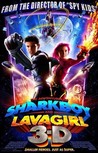 Starring:

Cayden Boyd, David Arquette, George Lopez, Kristin Davis

Summary:

From the wild imagination of a child and the digital vision of director Robert Rodriguez comes this magical, original, not to mention three-dimensional, family entertainment. (Dimension Films)
Director:

Robert Rodriguez

Genre(s):

Action, Adventure, Fantasy, Family

Rating:

PG

Runtime:

93 min
You can't get this kind of full-on sensory-jolt anywhere else, not legally anyway. "Sharkboy" will be equally beloved in elementary schools and in college dorms.

Robert Rodriguez and his kids conjure up a charming 3-D fantasy.

The low-tech film looks like a kid's crude drawing, plays like entry-level Game Boy, and is about as nourishing as a Tootsie Pop.

There's really just not a lot here. I'm sure Racer's story will entertain the very wee ones -- but so do keys.
Yo this movie is the bomb dogs! It's like hardcore shizizit for the hole faimly! It has the hardcore action of movies like Rambo, the dr

ama of Indiana Jones, the suspense of Silence of the Lambs, and the family values of Blue's Clues and Bob the Builder. It's like a Clockwork Orange meets the Davinci Code as this thinking man's epic reveals the flaws within our capitalistic society and the greed of corporate America. It's seering criticism of the Bush administration shows a world torn by war and corporate chauvinism and challenges traditional concepts of gender relationships and racial issues.

…

Expand

It might not be as good as the 3 Spy Kids movies, but The Adventures of Sharkboy and Lavagirl is definitely a 2-D experience instead of 3-D. S

ure the movie was a disappointment, but this is Taylor Lautner's first film before he was Jacob in the "Twilight" series. How hard can it be? I knew it got bad reviews, but since they said it was going to be bad, did they still watch Spy Kids 1-3 and usually blame a 3-D kids movie by Robert Rodriguez? No. They just want to be the center of attention yip-yapping those negative feedbacks. I gotta give credit to Robert Rodriguez. Even though he still has a loyal fanbase to those who want to become the next Antonio Banderas or Salma Hayek, he still makes more action movies like Sin City and Machete. That's a good director, maybe he will be making his star into the Hollywood Walk of Fame someday. It's a great movie if you haven't seen it, I watched a little bit on the Cartoon Network. But great job, Mr. Rodriguez.

…

Expand

Terribly written and played with crappy CGI, "The Adventures of Sharkboy and Lavagirl" is definitely one of the year's worst adult, and well a

s child, films.

…

Expand