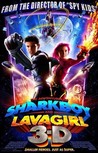 Starring:

Cayden Boyd

,

David Arquette

,

George Lopez

,

Kristin Davis

Summary:

From the wild imagination of a child and the digital vision of director Robert Rodriguez comes this magical, original, not to mention three-dimensional, family entertainment. (Dimension Films)
Director:

Robert Rodriguez

Genre(s):

Action

,

Adventure

,

Fantasy

,

Family

Rating:

PG

Runtime:

93 min
There is such a joy of play in the film that it's easy to overlook the overdone performances and the lazy script shortcuts.

On the whole it feels genuine. Lautner and Dooley are compelling as the sullen, instinctual Sharkboy and the radiant, hot-headed Lavagirl, and it's easy to see why they dominate shy, hesitant Max's dreams.

There's little chance of grabbing teens (or even many tweens) during summertime playdates. Still, small fry will be enchanted by this rambunctious action-adventure.

A story that would be charming if recited at the dinner table tries to carry a feature film, and it's not even close to the task. The result is screamingly bad.

The story's so sloppy that it contradicts itself constantly.

As sweet and hopeless and silly as a doting dad framing his second-grader's latest finger-painting and calling it a Matisse.

The result is astoundingly boring and, frankly, tedious to sit through.
It was the greatest movie ever!! i love the whole movie.

I love this movie. I could keep watching it over and over again. I loved everything about this movie.

My classroom loved it!! I have seen worse movies all of the Disney movies SUCK and are nothing but a waste of money. I thought this movie was

My classroom loved it!! I have seen worse movies all of the Disney movies SUCK and are nothing but a waste of money. I thought this movie was unique, creative and very entertaining.

…

Expand

It was to much like spy kids, but it was cute.

i thought 3-d would be an intresting movie choice. baaaaaad idea. many effects can easily be considered unrealistic and the plotline is just

i thought 3-d would be an intresting movie choice. baaaaaad idea. many effects can easily be considered unrealistic and the plotline is just too horrible. non-recommendation, but i've seen worse.

…

Expand

The acting is terrible, the plot is boring, the graphics are ordinary and the overall presentation is horrible. Everything in this movie is

The acting is terrible, the plot is boring, the graphics are ordinary and the overall presentation is horrible. Everything in this movie is terribly bad................

…

Expand

This movie sucked so bad i wanted to throw up during the whole movie. Fake Fake piece of crap. Only someone so stupid and imature would even

This movie sucked so bad i wanted to throw up during the whole movie. Fake Fake piece of crap. Only someone so stupid and imature would even watch this more than once oh nd for the record sharkboy is UGLY all yous have bad taste both in movies nd guys. o and lava gurl is ugly and stupid. all are idiots for liking it BIGGEST PICE OF S*** ON EARTH.

…

Expand