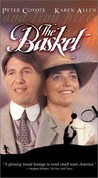 Summary:

Shortly after World War I, a new teacher (Coyote) brings basketball to a school in a small Pacific Northwest town. He helps to unite the town during a tense period which includes the immigration to the United States of German citizens.
Director:

Rich Cowan

Genre(s):

Drama

Rating:

PG

Runtime:

105 min
Well-acted, briskly paced and prettily photographed, the film is a mild-mannered family story with a caring heart, and that's ultimately enough to make its 104 minutes worthwhile.

Woven from such promising threads that you wish it was better.

Combines the wholesomeness of "Old Yeller" with the moral and physical claustrophobia of "The Waltons."

Earnest and kid-friendly -- also simplistic and dramatically creaky.

It gussies up the tale with so many random subplots that by the time we cut through the morass, the film is over.

Despite the overplotting, there's scarcely any of the characterization that might have made some of it interesting.