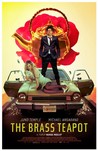 Director:

Ramaa Mosley

Genre(s):

Thriller

,

Fantasy

,

Comedy

Rating:

R

Runtime:

101 min
Please enter your birth date to continue:
You are not allowed to view this material at this time.
Despite the inherent perversity of the concept, Mosley succeeds in maintaining a certain sweetness throughout. Even more impressively, she makes her low-budget enterprise look as slick as most midrange studio comedies, demonstrating herself a director with both imagination and technical ingenuity.

The Brass Teapot stumbles into tedium, a parable that never quite resolves itself into the moral lesson it so desperately wants to convey.

Despite the numerous patchy moments The Brass Teapot by and large squeaks by as an enjoyable entertainment.

With the help of a talented cast, The Brass Teapot is able to coast on charm for the first hour, but then the fairytale idea that powers the film runs out of juice, and the last forty-five minutes hurtle toward a wrap-up that feels both awkward and overwrought, needlessly portentous and arriving much too late.

Far from the offbeat satire on the American dream gone sour it aims to be, The Brass Teapot is more like a dark flirtation with the American nightmare that backfires.

Wearing out its welcome long before its moralizing finale, the film...does manage to mine contemporary fears about the increasing worthlessness of a college degree.

The film feels like its over long before the credits roll — or perhaps that's just wishful thinking.
I thought this was a fun and entertaining movie. It was something I could only imagine in real life. The story of the down and out couple,

I thought this was a fun and entertaining movie. It was something I could only imagine in real life. The story of the down and out couple, making it big for no reason if not for the teapot was cute, while all along knowing that nothing good could come of it in the long run.

…

Expand

Rising star award winner at BAFTA for the 2013 season, Juno Temple, is one of my watch-out actress after seeing her in 'Dirty Girl'. As far as

Rising star award winner at BAFTA for the 2013 season, Juno Temple, is one of my watch-out actress after seeing her in 'Dirty Girl'. As far as I know she has not donned in a comical role so it was good to see her in this movie as one. This is the role she needed the most after all her previous roles were pretty much serious. The chemistry between her and her counterpart was excellent. The direction was nice, it was her first full length venture which was adapted from her short movie of the same name.

As the movie had two young actors, story too ideally matched and looked like specially made for young viewers. This fantasy theme was largely influenced by Aladdin's 'magic lamp' except Genie. Yes the movie was about magic teapot which works differently here, we can say it was modified to suit the modern world. An engaging screenplay, which happens around a teapot throughout the movie and makes us to keep guessing.

Of course, logic does not apply here, it takes turns like what a common man does or think if he had a magic pot with him. It was all about money, the world won't work without money so the story evolves around a young couple who are thirsty for money. Like it was another perspective of money making concept that similar to 'The Wolf of Wall Street'. All the above it delivered an inspiring message that necessitated to tell for todays young generation. This movie can be watched for entertainment purpose and also for time pass.

7.5/10

…

Expand

A surprising fun film with a strange premise. Most of this film is very light hearted going for a dark comedy, the end definitely changes the

A surprising fun film with a strange premise. Most of this film is very light hearted going for a dark comedy, the end definitely changes the tone of the film which seemed forced, but overall a good time.

…

Collapse

"The Brass Teapot" 10 Scale Rating: 6.0 (Decent) ...

The Good: The premise is completely silly, but interesting all the same. Likeable"The Brass Teapot" 10 Scale Rating: 6.0 (Decent) ...

The Good: The premise is completely silly, but interesting all the same. Likeable leads, at least initially. Genuinely funny at times with a sharp wit that made me chuckle on more than one occasion.

The Bad: Goes a little too far with the silliness and at times is just stupid. The extremes some characters take from moral, to completely immoral, and then back again isn't believable and causes you to start to root against them. This becomes difficult when it is a lead character.

…

Expand