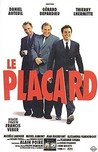 Starring:

Daniel Auteuil

,

Gérard Depardieu

Summary:

A hilarious story of how one little rumor not only brightens a simple man's life, but also triggers an awakening of everyone around him. (Miramax Films)
Director:

Francis Veber

Genre(s):

Comedy

Rating:

R

Runtime:

84 min
The French originals are always much breezier, the characters more genuine and the actors subtler even if the situations are just as silly.

It is aided both by fine performances by Auteuil, Aumont and Depardieu and by wonderful pacing.

This is economy of style that Americans get only in Woody Allen movies -- and even that's not a guarantee.

Auteuil is as charming as ever, with a surprising aptitude for physical humor that keeps the tone cheerfully light and the laughs plentiful.

Has a blithe tone and a capable cast, but Veber's script is 100 percent laugh-free.