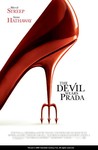 Starring:

Adrian Grenier

,

Anne Hathaway

,

Meryl Streep

Summary:

The best-selling novel about a young woman who stumbles into the hectic worlds of high fashion and publishing comes to the big screen.
Director:

David Frankel

Genre(s):

Drama

,

Romance

Rating:

PG-13

Runtime:

109 min
Please enter your birth date to continue:
You are not allowed to view this material at this time.
If you can tell the difference between a mule and a pump, attendance at The Devil Wears Prada is mandatory. You might have to reach back to "Funny Face" to find a fashion movie so on-trend.

While the picture isn't brilliant, it is, at its most entertaining, a kicky, surprisingly astute throwback to bygone Hollywood social comedies.

Actually one of the better comedies I've seen this year speaks volumes for the quality of the performances and the caliber of the script.

A lightweight, formulaic piece of fluff, but you wouldn't know that by Meryl Streep's performance.

Sometimes actors get parts so rich that they almost can't help but make meals of them. Playing a frosty, high-powered editor in The Devil Wears Prada, Meryl Streep turns the role into a four-course dinner and shows up with her own dessert...But it's hard to care about what's going on whenever she's offscreen.

If you shut down your brain and simply take in the wardrobe and performances by Streep and Blunt you'll have a swell time, like aimlessly flipping the pages of a fashion magazine.
Meryly Streep, perfection.

This movie made me burst with laughter! I left the movie theater without tearing the door of of it's hinges like I could've done if

This movie made me burst with laughter! I left the movie theater without tearing the door of of it's hinges like I could've done if I had chose to watch Garfield! Me, caring much about fashion, thoroughly enjoyed watching this film, and it probably will remain in my top ten for a long while. Even if you don't care about fashion, you will enjoy this movie...if you do care about fashion, it's especially good!

…

Expand

Just a fun, well acted movie. Meryl is amazing as usual.

"The Devil Wears Prada" had the potential to be a superior, instead of a good mainstream film if only its gatekeepers possessed the balls to

"The Devil Wears Prada" had the potential to be a superior, instead of a good mainstream film if only its gatekeepers possessed the balls to make Andie (Anne Hathaway) a truly unlikable character before returning her to the audience's good graces. A best friend and beau tell her that she's changed, but Andie never truly picks up that condescending tone her colleagues must indeed practice on people outside their industry. She's too nice. At some point, she should've turned into a

…

Expand

A poorly written book becomes an appealing film. I work in magazines and found it at once perceptive, irritating and funny. (Believe it or

A poorly written book becomes an appealing film. I work in magazines and found it at once perceptive, irritating and funny. (Believe it or not, all that backstabbing does go on. And the high heels are true. So is the way the girls are judged by the way they dress. Boys are generally exempt.) Anne Hathaway's character is a complete drip and so is her boyfriend. The film is Streep's and Blunt's. In Emily Blunt, I think we have a screensensation. Watch "My Summer of Love" if you don't believe me.

…

Expand

The obsession on weight in this film is disgusting. While some jokes are funny. Some moments in this movie caused me physical pain, and left

The obsession on weight in this film is disgusting. While some jokes are funny. Some moments in this movie caused me physical pain, and left me wondering how much I'd offend my friends if I walked out and left them there.

…

Expand