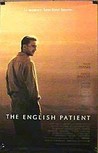 Director:

Anthony Minghella

Genre(s):

Drama

,

Romance

,

War

Rating:

R

Runtime:

162 min
It feels like a dream that a movie could have this kind of poetic grace and epic sweep, or could be so faithful to its source and still work so perfectly as a film.

A big, fat old-fashioned gush of passion as drawn through a post-modernist prism that makes it less easily comprehensible but more beguiling.

A mesmerizing film that is the most stunning, tempestuous love story in a decade or two of movie making.

The acting of this central trio is brilliant, in part because the crisscrossing of these and other stories and the gorgeous backdrops take some of the weight off: The characters are free to be flawed without losing our interest.

This is one of the year's most unabashed and powerful love stories, using flawless performances, intelligent dialogue, crisp camera work, and loaded glances to attain a level of eroticism and emotional connection that many similar films miss.

The look, the feel, the brood-y, brilliant cast: This is an oddly affecting movie, all right, a jellyroll of Bronte and Hemingway.

It's reasonably well told and well mounted but little more.
Great film! Real emotions, real life! Heroes were on the top! Music brilliantly selected!

What a marvelous movie is this one! It touches your heart, it moves you!. The photography is spectacular, and the performances were great.

This is classic, and I wish we had more movies as deep as this one is...I think it is about time for me to watch it again. Not a 10, but a 9 for sure! I highly recommend it.

…

Expand

Good. As it's hard to find true love in real world, so it's nice to be moved by an ideal one in a film. Your assumed friends may suspect you,

and your supposed enemy might respect you, that's why Almásy is delayed in rescuing his ankle-injured lover, and why the vengeful Caravaggio gives up revenge after knowing all these. A traitor is not a traitor when he himself is betrayed by some peremptory authority, and when such betrayal is necessitated by great love.

…

Expand

Really, reviewers? Can't you identify a great film when you've watched it? 'The English Patient' won 9 Oscar and everyone (or at least 7 of

them) are merited. The screen adaption of this criticly praised book (I haven't read) is very good directed, has a simply fantastic score, magnificient cinematography and highly talented actors. I admit that it could've been shorter and the love story gets too kitschy partly, however it's the best movie of 1996 and totally touching!

…

Expand