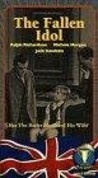 Starring:

Michèle Morgan, Ralph Richardson

Summary:

Adapted from Graham Greene's story "The Basement Room" this 1948 film is told from the perspective of a child.
Director:

Carol Reed

Genre(s):

Drama, Mystery, Thriller

Runtime:

95 min
Of all the movies that try to take us into the mind and viewpoint of a child, Carol Reed's 1948 The Fallen Idol, adapted by Graham Greene from his short story, is one of the most ingenious.

It might be lesser known, but certainly not deservingly so. This is a cracking piece of Brit cinema.

Graham Greene's screenplay is centered on the pivotal moment when a child first discovers sin, but the boy's perspective is neglected in favor of facile suspense structures and a thuddingly conventional whodunit finale.
Another classic thiller from Carol Reed, director of The Third Man and Odd Man Out. I've been loving and waiting for this one to be rele

ased on DVD. Amazing film!

…

Expand

Excellent performance by Richardson, tight script & editing. Release print here in Atlanta has soundtrack problems that sometimes made it dif

ficult to understand dialogue.

…

Expand

Dull, slow moving movie. Can't believe, even a young kid would be as nieve and dumb as this kid. No one in the movie was exciting. Baine

s was a dullered. His girl friend was unbelievable. She was too young and pretty to be taken with the dullered Baines. The plot turned out more slapstick then suspenseful; but without the laughter.

…

Expand