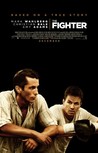 Please enter your birth date to continue:
You are not allowed to view this material at this time.
An exhilarating fight-flick that, like its scrappy central character, is impossible not to root for.

The rousing The Fighter tries a number of risky maneuvers and manages to make them pay off in the end. The movie initially feels like more of a near thing than the filmmakers anticipated, but as in boxing it's only the final decision that counts.

The movie has so much texture that once it gets you, you're good and got.

Ultimately, The Fighter loses its courage and betrays the terms of its own story by fashioning an interpretation designed to please the people it portrays. It does a switch on us, by changing its focus from Micky's character to Micky's career and then pretending it was really about the career all along.

The screenplay, credited to three writers, has that over-doctored feeling to it, and we're asked to take on a larger redemption tale that undermines the truth of Bale's wholly unsympathetic portrayal of a drug addict and a narcissist. The Fighter's desire to show us what that awful combination looks like is overwhelmed by its urge to show us a Hollywood-style triumph.

So like much of this film, the viewer is turned into an observer. You never feel close enough to the action, either in the ring or in the kitchens, living rooms and tough streets where the story takes place. The characters engage you up to a point but never really pull you in.
I was suprised. I expected it to be good, but it was awesome. The Drama was realistic, the fighting was exhilerating, and the acting was

I was suprised. I expected it to be good, but it was awesome. The Drama was realistic, the fighting was exhilerating, and the acting was superb. Go see it

…

Expand

Great story, great performances. I see a lot of movies but seldom am as moved as I was with this one. There was a lot of ugliness in the

Great story, great performances. I see a lot of movies but seldom am as moved as I was with this one. There was a lot of ugliness in the movie, but a lot of beauty too. Great performances by Mark Wahlberg, Christian Bale, Amy Adams, Melissa Leo, Mickey O'Keefe (who played himself), and Jack McGee.

…

Expand

This review contains spoilers, click expand to view. I thought it was going to be a tiresome cliche movie with manufactured scenes, but I was dead wrong. The movie as a whole has a lot of CHARM. The cast was outstanding from top to bottom and Bale nailed every scene with perfection! Naturally, people will compare this to Rocky base from the trailer alone and boxing element, but if you watch the Fighter entirely, you will see that its a totally different. Rocky and The Fighter deserve to be known as their own. Another thing to keep in mind is the Rocky was art imitating life (inspired from a true event), while The Fighter was life imitating art (a true story).

I deducted one point from this movie because I thought they could have rephrased the info in the aftermath of film. [SPOILER alert]. After the last scene, they should have written "After winning the title, Micky Ward began his epic career including his trilogy with Arturo Gatti.....Three of his boxing matches were voted Fight of the Year........Dicky Ecklund was by his corner at all times." [END Spoiler] .

…

Expand

Uniquely written, floundering back and forth between drama and comedy, then depressing, yet optimistic. Christian Bale displays one of the

Uniquely written, floundering back and forth between drama and comedy, then depressing, yet optimistic. Christian Bale displays one of the finest acting performances I've ever seen. Although pieces of it played out as too Hollywood, especially the ending, it was beautifully shot and very entertaining.

…

Expand

Though it might not be the next "Rocky" or "Raging Bull", "The Fighter" is built by a very strong supporting cast that should make this a

Though it might not be the next "Rocky" or "Raging Bull", "The Fighter" is built by a very strong supporting cast that should make this a strong addition to the Boxing Genre in movies.

…

Expand

lets forget about the movie and talk about CHRISTIAN BALE!!!!!!!!!!!!!!!!!!!! he was excellent. CHRISTIAN BALE did a great job playing

lets forget about the movie and talk about CHRISTIAN BALE!!!!!!!!!!!!!!!!!!!! he was excellent. CHRISTIAN BALE did a great job playing dicky. his character was touching and funny and messed up. I liked this movie because of CHRISTIAN BALE. Mark Wahlberg did okay. MELISSA LEO was great as well. Amy Adams was good.

…

Expand

Horrible movie. Another boring boxing movie filled with unnecessary drama? We need something new. I would much rather watch Reel Steel than

Horrible movie. Another boring boxing movie filled with unnecessary drama? We need something new. I would much rather watch Reel Steel than this rubbish of a movie.

…

Expand