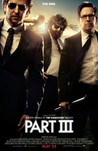 Director:

Todd Phillips

Genre(s):

Comedy

Rating:

R

Runtime:

100 min
Please enter your birth date to continue:
You are not allowed to view this material at this time.
Galifianakis, though, is the key here. Able to smash a scene to smithereens with the simplest of lines, the hirsute comic is as unpredictable as ever, yet takes director Todd Phillips' bait to up the stakes.

And so the real question isn't whether director Todd Phillips' third -- and, he insists, the final -- installment in the unabashedly crude, very R-rated comedy trilogy is funny. Of course, it is.

Director Todd Phillips has delivered a film so different from the first two, one could even ask if this is even supposed to be a comedy. I'm not saying it's an unfunny comedy wannabe; I'm saying it plays more like a straightforward, real-world thriller with a few laughs than a hard-R slapstick farce.

Nothing about this rote exercise feels remotely fresh. It's a re-tread of the 2009 original, sans the inspired lunacy.

The Hangover Part III plays more like a caper film — "Alan's Eleven," perhaps — than a comedy. While Phillips ably handles the action sequences, he and co-screenwriter Craig Mazin can't juggle both genres in the screenplay.

If the first "Hangover" movie were this awful, there never would have been a Part Two. This is a joyless, unfunny mix of comedy and drama, a complete waste of time, with exactly one good joke in the entire movie. It comes in the first minute. After that, you can leave.
IGNORE THE REVIEWS. The movie is hilarious. I saw it in a packed cinema and everyone was laughing throughout! It is a different, darker

IGNORE THE REVIEWS. The movie is hilarious. I saw it in a packed cinema and everyone was laughing throughout! It is a different, darker approach to the trilogy and it works! Its the perfect balance of sinister/hilarious. The Hangover is usually centered around Stu but now it's Alan's movie and the change pays off. DEFINITELY WORTH YOUR MONEY, THIS METACRITIC SCORE IS AN ABOMINATION!!

…

Expand

It's completely different than the previous ones but no way it's as bad as everyone says. It's a good movie, I didn't had high expectations

It's completely different than the previous ones but no way it's as bad as everyone says. It's a good movie, I didn't had high expectations and it's a solid thing

…

Expand

The Hangover Part III is the conclusion to the so called Hangover trilogy. It has more misadventures with Stu, Allan, Phil and most

The Hangover Part III is the conclusion to the so called Hangover trilogy. It has more misadventures with Stu, Allan, Phil and most importantly Chow. Allan has been off his meds so Tracy and the rest of his friends bring up the suggestion of Phil, Stu, and Doug to drive him to a rehabilitation center. This of Course goes awry. You later find out that Leslie Chow stole 21 million dollars from this guy named Marshal. Marshall is quite angered by this and kidnaps the "Wolfpack". Marshal then lets Stu, Allan and Phil go, but kidnaps Doug. He gives Stu, Phil and Allan the task of bringing him Chow or they will kill Doug. I am not going to write anymore because I don't want to spoil the movie for those individuals who might find this title funny and or somewhat interesting. This movie had its funny moments but lacked plot development and character chemistry which was present in the previous two movies. Overall this movie had a weak plot and could have used a little bit more funny scenes. I will end my review with this, you should watch the end credits because there is a funny scene at the end.

…

Expand

The first was fun. Not because it was particularly hilarious, but because of the ridiculous series of events that are amazingly put together.

The first was fun. Not because it was particularly hilarious, but because of the ridiculous series of events that are amazingly put together. The second, from what I recall, was worse in every way. This third, is very different to both. The ridiculous events are no where near as interesting or amusing. Its a shame that the most funny moments were the most subtle, yet this film seems to completely avoid this subtlety. Honestly, as a slightly comedic thriller, it would of been quite good. The problem is that it tries way too hard to be funny, yet the jokes are just not good enough, relying way too heavily on links to the original.

Mostly unfunny, but its thriller-style plot makes for a relatively entertaining film.

…

Expand

I don't know what I expected after the worse-than-the-first-movie sequel and all the trailers to this one. Perhaps, funny jokes, more screen

I don't know what I expected after the worse-than-the-first-movie sequel and all the trailers to this one. Perhaps, funny jokes, more screen time devoted to Doug (Justin Bartha), and less to Zach Unpronounceablakis and the Chinese moron... Of course, all of that was quite silly of me, the series dropped the bar even lower. In fact, this isn't even a comedy any more, but an action/adventure movie with some humorous moments. The opinion of this movie is basically based on your opinion of Zach Whateverakis and his character. If you, for some awkward reason, liked him in the previous parts, this movie may very well entertain you. If you didn't, like me, and hate his utter bloody stupidity, then you'll be mostly bored with this movie. It's watchable, but I wouldn't recommend spending your hard-earned money on it.

…

Expand

The third and last installment of the Hangover saga gives far too much screen time to the increasingly obnoxious Alan character. Erroneously

The third and last installment of the Hangover saga gives far too much screen time to the increasingly obnoxious Alan character. Erroneously described as a "man-child", Alan seems to be a borderline narcissist psychopath. The plot includes plenty of cruelty against animals, abuse of the elderly and shocking lies (such as telling a child you are his father when you are not).

…

Expand