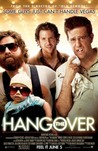 Starring:

Bradley Cooper

,

Justin Bartha

,

Zach Galifianakis

Summary:

Two days before his wedding, Doug and his three buddies drive to Vegas for a blow-out night they'll never forget. But when the three groomsmen wake up the next morning with pounding headaches, they can't remember a thing. Their posh hotel suite is beyond trashed and the groom is nowhere to

Two days before his wedding, Doug and his three buddies drive to Vegas for a blow-out night they'll never forget. But when the three groomsmen wake up the next morning with pounding headaches, they can't remember a thing. Their posh hotel suite is beyond trashed and the groom is nowhere to be found. With no clue of what happened and little time to spare, the trio must attempt to retrace their bad decisions from the night before in order to figure out where things went wrong and hopefully get Doug back to L.A. in time for his wedding. However, the more they begin to uncover, the more they realize just how much trouble they're really in. (Warner Bros.)

…

Expand
Director:

Todd Phillips

Genre(s):

Comedy

,

Crime

Rating:

Unrated

Runtime:

100 min
Please enter your birth date to continue:
You are not allowed to view this material at this time.
This is a movie where you WANT to stick around for the credits. The beauty is that you are totally set up for it, and you don't mind one bit. That final sequence ties the movie together in an awesome fashion.

The Hangover is a shaggy-dog tale that's actually, when you step back from it, perfectly shaped.

The Hangover ain't art, but Phillips has shaped the hardcore hilarity into the summer party movie of all our twisted dreams.

Raunchy frat comedies are as hard to pull off as any other kind because they have to keep surprising the audience, and The Hangover does with a bizarre series of uproarious situations with explanations that just about stay within the bounds of plausibility.

The Hangover pushes the boundaries of good taste, good sense, and good will toward man. And you'll feel good about it all.

Phillips can't bring himself to push the material into truly outré territory, or to characterize his growth-impaired guys as degenerate creeps rather than lovable scamps.

The Hangover is like an infernal comedy machine. Surrender your soul to its foul mesh of cheap cleverness and vulgarity. and you howl like a delighted demon. Resist, and you feel all sense and sensibility being crushed in its cogs.
Pure hilarity from start to finish. It never tries to be anything beyond that, and it succeeds in its goal flawlessly. The critics who

Pure hilarity from start to finish. It never tries to be anything beyond that, and it succeeds in its goal flawlessly. The critics who don't like this movie have no souls.

…

Expand

I wanted to watch this movie since I've first saw the trailer. After I went to the cinema, I got right exactly what I was looking for.

I wanted to watch this movie since I've first saw the trailer. After I went to the cinema, I got right exactly what I was looking for. Absolute fun. The setup of "everything can happen in Vegas" opens almost endless possibilities, and this movie did it right. It was surprising, that while the movie kept up the constant fun, the plot was well-written, as it also kept you interested as the team tried to figure out what they did in an almost detective-mystery fashion, and the conclusion is crazy. I can highly recommend this movie, as it will make you want to have a party in Vegas.

…

Expand

Great movie! extremelly true and funny! Very funny, I would say! Will recommend! People who think this movie is not good, I think they should

Great movie! extremelly true and funny! Very funny, I would say! Will recommend! People who think this movie is not good, I think they should watch The Box...(Cameron Diaz). After that, they will appreciate it a lot more and realize that the money spent on making the move has not been wasted!

…

Expand

HAHAHAHAHAHAHA. That is really all I have to say about this movie. Superb laughs, and a solid storyline. There aren't many comedies that achieve this.

Very funny, the writing is excellent and cleverly pieced together. The cast is terrific, especially Ed Helms. Very well edited, good score,

Very funny, the writing is excellent and cleverly pieced together. The cast is terrific, especially Ed Helms. Very well edited, good score, outstanding pace. One of the better comedies of the last few years.

…

Expand

Not bad. not great either.... it's everything you'd expect after seeing the trailer. i was hoping for better since it got good

Not bad. not great either.... it's everything you'd expect after seeing the trailer. i was hoping for better since it got good reviews but it didn't wow me.... it was average entertainment with a couple laughs. it's basically like a 'dude, where's my car' redux.

…

Expand

This was an absolute waste of time. The characters actions, of which we see very little, were not believable to the behaviors that they

This was an absolute waste of time. The characters actions, of which we see very little, were not believable to the behaviors that they displayed the next day. There was no chemistry, the scenes felt forced and scattered as if there were a dozen frat boys trying to tell a coherent story. I don't think I laughed out loud once, each line was cliche and unoriginal. This movie was cruel and moronic and in no way clever or funny. I can't believe the amount of people who enjoyed this film, it breaks my heart that we will most likely see more films like this in the future.

…

Expand