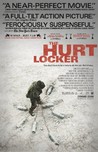 Starring:

Anthony Mackie

,

Brian Geraghty

,

Jeremy Renner

Summary:

When a new sergeant, James (Jeremy Renner), takes over a highly trained bomb disposal team amidst violent conflict, he surprises his two subordinates, Sanborn (Anthony Mackie) and Eldridge (Brian Geraghty), by recklessly plunging them into a deadly game of urban combat. James behaves as if

When a new sergeant, James (Jeremy Renner), takes over a highly trained bomb disposal team amidst violent conflict, he surprises his two subordinates, Sanborn (Anthony Mackie) and Eldridge (Brian Geraghty), by recklessly plunging them into a deadly game of urban combat. James behaves as if he's indifferent to death. As the men struggle to control their wild new leader, the city explodes into chaos, and James' true character reveals itself in a way that will change each man forever. [Summit Entertainment]

…

Expand
Director:

Kathryn Bigelow

Genre(s):

Action

,

Drama

,

Thriller

,

War

Rating:

R

Runtime:

131 min
Please enter your birth date to continue:
You are not allowed to view this material at this time.
The result is an intense, action-driven war pic, a muscular, efficient standout that simultaneously conveys the feeling of combat from within as well as what it looks like on the ground.

Overwhelmingly tense, overflowing with crackling verisimilitude, it's both the film about the war in Iraq that we've been waiting for and the kind of unqualified triumph that's been long expected from director Kathryn Bigelow.

The most literally exciting film you will see this year. Forget the off-putting banner of another Iraq movie -- go, watch, marvel, endure and book in the palliative of a stiff drink afterwards.

A full-throttle body shock of a movie. It gets inside you like a virus, puts your nerves in a blender, and twists your guts into a Gordian knot.

Tensely action-packed and muscularly directed by Kathryn Bigelow, this tale of an elite U.S. army bomb disposal unit in Baghdad is a familiar story in new clothes, targeted at the young male demographic.

This is a tense, well-crafted motion picture that keeps viewers on edge. It's an exhausting 130 minutes; many viewers will leave the theater feeling drained.

Boal's script stirs a little of everything into the pot, which boils down into seven setpieces divided by brief intervals of camaraderie/conflict among the three protags.
This movie is a great character study and a must see. one of its most masterful strengths is how no character in the movie ever feel

This movie is a great character study and a must see. one of its most masterful strengths is how no character in the movie ever feel invincible I found myself constantly wondering if this moment was the character's last. the movie's theme was not forced and instead rather subtle (even enough to make some viewers miss some of it) though very powerful. the ending is by far the most well put together i have ever seen in a war film. NOTE: In terms of accuracy and factualness though some scenes may seem fake (sniper scene) my sister who i saw it with is a psychologist who works for the VA, she told me that the characters were dead on in terms of emotions and the way the interact.

…

Expand

Masterclass, truly wonderful cinema. The detractorss of this movie don't get it, and I pity them for not being able to appreciate the

Masterclass, truly wonderful cinema. The detractorss of this movie don't get it, and I pity them for not being able to appreciate the genius of this production. To those that see and enjoy movies as high art, I envy you the thrill you are about to experience.

…

Expand

To all of you military types complaining that this movie wasn't realistic enough, it's not a documentary. It's a work of

To all of you military types complaining that this movie wasn't realistic enough, it's not a documentary. It's a work of fiction. Period. The Hurt Locker isn't concerned with the nuts and bolts of making every tiny detail as 100% accurate as possible. If you want that, watch the Military Channel, or better yet go re-enlist and get shipped back over there if want an "authentic" experience. This is the first war movie in ages that paints its soldiers as real, complex people instead of cartoons or psychos, and all you can do is complain? Sheesh. Luckily, for the rest of us, this film will do just fine, because the enlightened viewer will realize that The Hurt Locker isn't about the details, but the big picture. It's a document of what a war like this means and how it affects the participants on both sides. It's neither pro-war nor anti-war, but instead just shows the ways things are without pronouncing judgment on its characters or their actions. It's also a showcase for some of the most impressive action and suspense set pieces to grace the cinema in a very long time. Hard, sharp, and honest, The Hurt Locker is one of the year's very best films. THAT'S the reality.

…

Expand

True to the pumped up, hormonal realities of combat.

Entertaining, yet not anywhere near to reality. You wouldn't go off base by yourself without your gear. You wouldn't do half of the things

Entertaining, yet not anywhere near to reality. You wouldn't go off base by yourself without your gear. You wouldn't do half of the things they they did in this movie.

And action movie this is, an accurate one it is not. The portrayal of pstd was abysmal at best, and they way they wrote it off was sickening.

…

Expand

You know, i haven't even seen the movie, but I can't imagine this movie could be so good. Seeing the user score is an average 7.1,

You know, i haven't even seen the movie, but I can't imagine this movie could be so good. Seeing the user score is an average 7.1, (before my comment) the only reason the critics gave it an overall 94 is because they didn't want to make anyone mad just because the film is about wars in Afghanistan, or something. Avatar, the best created movie in my book, was well thought out, with amazing visual effects, and voice overs. That movie only got a 84!! That is still a really good rating, but i think Avatar should have gotten the 94 and The Hurt Locker get the 84. Also I want to talk about The Dark Knight. That movie really makes you think. Heath Ledger's psychopathic, insanely evil performance won him an academy award for being a mad dog whose main goal in life is to show everyone that they can become a mirror image of himself. Leading actor Christian Bale's performance of darkly kind night watcher over gotham city known as Batman was so amazing I was stunned. They really capitalized in this movie how much The Joker can aggrivate him and make him uncontrollably mad to the point of almost killing someone. The Hurt Locker is no where as amazing as the writing of Avatar, and the amazing, horrific, and violently great acting of the Dark Knight. It dosen' deserve the publicity it has gotten.

…

Expand

I was excited to see this movie for a number of reasons, not the least of which was it's critical buzz. When I walked out, I was

I was excited to see this movie for a number of reasons, not the least of which was it's critical buzz. When I walked out, I was appalled. Not by the technical inaccuracies or the unbelievably inane behavior and portrayal of the characters. That just makes it fiction. What offends me and what will offend anyone whose put in his time downrange is that everyone out there seems to think this is such a great movie. Every gushing review I read talks about Hurt Locker's harsh and uncompromising realism. BS! Do NOT watch this movie thinking that anything happening on screen is even remotely close to true to life. Nothing, NOTHING about this movie is close to being "real." From my perspective, GI Joe is a better movie because it doesn't pretend to be something it's not and then fail miserably at it. Katherine Bigelow might have fooled all the civilians but she's not fooling anyone else.

…

Expand