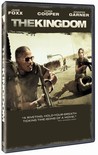 Starring:

Chris Cooper

,

Jamie Foxx

,

Jennifer Garner

Summary:

When a terrorist bomb detonates inside a Western housing compound in Riyadh, Saudi Arabia, an international incident is ignited. While diplomats slowly debate equations of territorialism, FBI Special Agent Ronald Fleury quickly assembles an elite team and negotiates a secret five-day trip

When a terrorist bomb detonates inside a Western housing compound in Riyadh, Saudi Arabia, an international incident is ignited. While diplomats slowly debate equations of territorialism, FBI Special Agent Ronald Fleury quickly assembles an elite team and negotiates a secret five-day trip into Saudi Arabia to locate the madman behind the bombing. However, upon landing in the desert kingdom, Fleury and his team discover that Saudi authorities are suspicious and unwelcoming of American interlopers in what they consider a local matter. Hamstrung by protocol--and with the clock ticking on their five days--the FBI agents find their expertise worthless without the trust of their Saudi counterparts, who want to locate the terrorists in their homeland on their own terms. (Universal Studio)

…

Expand
Director:

Peter Berg

Genre(s):

Action

,

Drama

,

Thriller

Rating:

R

Runtime:

110 min
Please enter your birth date to continue:
You are not allowed to view this material at this time.
Berg doesn't let up on the tension, even when the action is bloodless.

Director Peter Berg and first-time writer Matthew Michael Carnahan do a smooth, efficient job of storytelling most of the way.

A timely--if tepid--fantasy of American vengeance on the Qutbian extremists of Saudi Arabia.

The Kingdom has a heart and a viewpoint. It's a thrill ride with a lingering thought or two in its wake. But the explosions, breakneck chases, daredevil escapes and predictability about which side will be victorious remain its foremost mission.

Berg's movie is no more than an action movie with an exotic backdrop. That would be fine, if only the movie were more exciting. It succeeds neither as a pointed political commentary nor as a taut thriller.

The Kingdom is essentially "C.S.I.: Riyadh," starring Jamie Foxx in yet another movie his Oscar statue will watch with shame.

At its core this is just another piece of big-studio nothingness. The characters are so underwritten they barely qualify as types, and the movie is badly paced, bookended by high-ordnance action sequences but painfully static in the middle.
As I key this the score for this fine movie is 56....can you believe it. I guess it just shows that the smart among us don't write reviews.

As I key this the score for this fine movie is 56....can you believe it. I guess it just shows that the smart among us don't write reviews. Good script, tight action, fine acting by foreign actors and a compelling ending make this one of the best action/drama made. Granted the story is balanced and thus fails to present the Red, White and Blue as all good, all knowing, but the balance of the tale is outstanding and is clearly superior to any other movie of this general type. Name one that you think is comparable, then ask how layered the plot is in your assumed favorite. Here we start with a massive bombing and move into cultural relationships, a clever cop/buddy movie, great action, and a story that makes sense almost all of the way. Good flick.

…

Expand

A very good action thriller that is just what is advertised...an edge of your seat thriller. Yes, the shaky hand held camera work is not what

A very good action thriller that is just what is advertised...an edge of your seat thriller. Yes, the shaky hand held camera work is not what I like to see but we seem to be getting this kind of editing in action films nowaday so ....and yes the left wing looneys are panning it for no apparent reason other than to think they see something in this film that is proAmerican. So what else it new.

…

Expand

Great action, interesting story and characters. Good humour to between the FBI guys and the Arab handlers. I thoroughly enjoyed this movie.

Great action, interesting story and characters. Good humour to between the FBI guys and the Arab handlers. I thoroughly enjoyed this movie. The final action sequence really had me riveted.

…

Expand

Good movie , a little because it has not reached the Oscar knowing it was so but I'm honest, the war against the Islamic State is not over ,

Good movie , a little because it has not reached the Oscar knowing it was so but I'm honest, the war against the Islamic State is not over , and i don't knonw what's happen with Saudi Arabia.

…

Expand

Too shallow to be taken seriously.

Jamie Fox and cast get the job done, while action that isn't effective, dialogue that annoys, a movie that has so much cam-shake that

Jamie Fox and cast get the job done, while action that isn't effective, dialogue that annoys, a movie that has so much cam-shake that you can't even watch it. A poor letdown, way too cliched that it frustrates your mind.

…

Expand

Jason I read your review and you sound about 15. You have no clue about the movie other than you liked the good guys versus the bad guys

Jason I read your review and you sound about 15. You have no clue about the movie other than you liked the good guys versus the bad guys shoot em up action flick. By the way who exactly were the good guys? This was a propaganda piece to capitalize on the War in the Middle East except that it backfired big time. No one can be naive enough to think that every child in Saudi, Arabia carries a hand grenade and a rocket laucher in his back pack. But somehow this is what this sorry excuse for a motion picture conveyed. The camera work was attrocious, the directing awful and the acting was a total joke. Other than than Jason this was a great movie worthy of an adolescent without a clue.

…

Expand