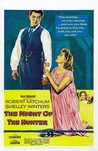 Starring:

Robert Mitchum

,

Shelley Winters

Summary:

In this re-release of 1955's eerie meditation on good and evil, a demented preacher (Robert Mitchum) relentlessly torments two small children in the Depression-era Bible Belt in order to get at their dead father's stolen fortune.
Please enter your birth date to continue:
You are not allowed to view this material at this time.
One of the greatest of all American films, but has never received the attention it deserves because of its lack of the proper trappings. Many "great movies'' are by great directors, but Laughton directed only this one film, which was a critical and commercial failure long overshadowed by his acting career.

It's the most haunted and dreamlike of all American films, a gothic backwoods ramble with the Devil at its heels.

Part fairy tale and part bogeyman thriller -- a juicy allegory of evil, greed and innocence, told with an eerie visual poetry.

This is the only film Laughton ever directed, and he packed it with a mixture of eerie chills, ingenious suspense, and absurdist humor. It's a genuine classic.

Ignored for a long time, this film is now impossible to ignore. Mitchum is magnetic.

This start for Gregory as producer and Laughton as director is rich in promise but the completed product, bewitching at times, loses sustained drive via too many offbeat touches that have a misty effect.
One of those movies that if I had seen as a child it would have terrified me to no end, and having seen it now, it just sits eerily in the

One of those movies that if I had seen as a child it would have terrified me to no end, and having seen it now, it just sits eerily in the back of my mind. It is truly a perfect thriller.

…

Expand

Pretty much as brilliant as movies get. Mitchum plays the serial killer preacher(his favorite role he said) with absolutely no morals(except

Pretty much as brilliant as movies get. Mitchum plays the serial killer preacher(his favorite role he said) with absolutely no morals(except get money). The scene on the porch at night is probably THE most brilliant movie scene in history. Good acting, good story, good movie. this is film making at it's very best. A suspenseful masterpiece. there are moments where i am actually worried that he would catch the kids. An excellent film. I particularly like how he would fool his victims and their friends. He has more or less memorized the basics of Christianity and he uses that for his own ends. He is so evil that you like him a lot. also I like how this was Laughton's first attempt at directing. It was his first time and he came up with this. the only other time that I have seen that is with Citizen Kane. A masterpiece that will never fade into the ages. It has and will continue to stand the test of time.

…

Expand

One of cinema's miracles.
This movie put in me in a trance mid-way. It just sucks you in. The plot, directing, acting, casting, characterOne of cinema's miracles.
This movie put in me in a trance mid-way. It just sucks you in. The plot, directing, acting, casting, character development. I could go on and on. A most classic of classic movies. Might not be for every person in the world, but, to me, this movie is just as important to cinema as The Wizard of Oz or 2001: A Space Odyssey. Right up there with them.

…

Expand

Robert Mitchum gives a blistering and bone-chilling performance as a psychotic preacher, but the twist of the film as a whole, is that the

Robert Mitchum gives a blistering and bone-chilling performance as a psychotic preacher, but the twist of the film as a whole, is that the movie isn't even about him. It's about two children, forever plagued by the sins of the father.

…

Expand

Can't tell whether I'll see the Night of the Hunter again or spread the word about it to everyone and then see it again. It's funny because

Can't tell whether I'll see the Night of the Hunter again or spread the word about it to everyone and then see it again. It's funny because all of the options have 'seeing it again' meaning that I love this movie so much and that means you too.

…

Expand

Around the time this film came out, it did not have too many good reviews and did not do so well at the box office. It was not until later

Around the time this film came out, it did not have too many good reviews and did not do so well at the box office. It was not until later when people found the beauty in it, like finding a lost treasure. The film's plot seems simple enough, but the way they do certain scenes and acting makes it creepy, Some people say the acting is not good at all, but that's for the better of the film. There are shadows and silhouettes that seems like it shouldn't be there, but that's to give the scene feeling and saying what's going on and a character's mood. There is no good way to describe this film other than a masterpiece in the thriller/noir genre. This is something you should see for yourself.

…

Expand

There has never been a more overrated movie to ever waste space in a film reel. I'm pretty sure everyone who gives it a good review is

There has never been a more overrated movie to ever waste space in a film reel. I'm pretty sure everyone who gives it a good review is attesting it solely on mitchum's acting. He carries the movie alone and even then, it still sinks to rock bottom. Every single other actor is annoying, incompetent, or both. The plot rarely resolves anything it introduces in the story, like it's dragging its legs over jagged rocks and not trying to correct this. The conclusion came from absolutely nowhere. It's like everyone who was apart of this was hired to make a movie together and none of them had actually seen one before. This whole thing worked better as a novel where you don't have to accordion everything into a short 2 hour video and rely on actors to convey the work. I give it a 1 because mitchum wasn't God-awful in this.

…

Expand