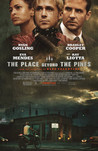 Starring:

Bradley Cooper

,

Eva Mendes

,

Ryan Gosling

Summary:

A motorcycle stunt rider considers committing a crime in order to provide for his wife and child, an act that puts him on a collision course with a cop-turned-politician.
Please enter your birth date to continue:
You are not allowed to view this material at this time.
The music, the cinematography, the acting choices, the daring plot leaps — not a single element is timid or safe...The Place Beyond the Pines earns every second of its 140-minute running time.

The film is so velvety textured and dreamy, I would've stuck around for more. That is Cianfrance's special talent.

Cianfrance is the real deal, and anyone who can persuade talented Hollywood stars to enact nonironic, intelligent, ambitious drama should be encouraged, especially when the result is something like this.

Cianfrance generally shows again that he knows how to build immersive characterizations with his actors. And while this sorrowful triptych is uneven and perhaps overly ambitious, the director displays a cool mastery of atmospherics and tone.

The Place Beyond the Pines can't be said to be anyone's movie but Cianfrance's. Structured as a triptych, the movie is novelistic, earnest and somewhat exhausting — an ambitious effort that tries to be many things. And it is definitely something: a sprawling, engaging study in fathers, sons and sins.

The Place Beyond the Pines is a much bigger canvas, and scene by scene it can be riveting...But the disparate pieces never quite jell; the movie is all trees and no forest.

The film never reaches a climax because it's always in one, distilling the lives of its characters to their tensest moments.
Easily the best of 2013 so far. This movie had so much emotion with the soundtrack, characters, and symbolism. Where Django Unchained had me

Easily the best of 2013 so far. This movie had so much emotion with the soundtrack, characters, and symbolism. Where Django Unchained had me at the edge of my seat with excitment and laughter, PBP hit me right in the heart and soul.

…

Expand

This is a riveting movie. Although long, it moves at warp speed. Beautifully filmed, judiciously edited, and acted impeccably, it is as

This is a riveting movie. Although long, it moves at warp speed. Beautifully filmed, judiciously edited, and acted impeccably, it is as urgent and moving a film as I have ever seen. I was not a fan of either Bradley Cooper and Ryan Gosling or Eva Mendes--that has changed. It is the supporting players, however, who steal the film. It's a tough minded, morally complex, greatly moving fillm.

…

Expand

This movie hit all the right notes for me. Visually, it's beautiful. The cinematography is incredibly well done, every shot is done just

This movie hit all the right notes for me. Visually, it's beautiful. The cinematography is incredibly well done, every shot is done just right. The soundtrack was perfect and really fit the subtle dark undertones this movie gives off. As for the acting, every major character in the movie is portrayed superbly well and full of emotion. Ryan Gosling and Bradley Cooper stand out to me as the two major actors who really nailed their roles in this movie, but Dane DeHaan also gives a very convincing and powerful performance. The story, without spoiling anything, can only be described as emotionally gripping. My only complaint with this film is that the third act was a bit too long. This is a very minor issue however, it gave me time to really soak in the entire movie and appreciate the final moments of this great film.

…

Expand

Structurally daring and affecting all throughout, "The Place Beyond The Pines" is a gorgeously shot, character-driven epic with marvelous

Structurally daring and affecting all throughout, "The Place Beyond The Pines" is a gorgeously shot, character-driven epic with marvelous performances all around and a truly haunting score.

…

Expand

I gave it a 10 the first time I watched, but after a second viewing I recognized some of it's flaws in terms of pacing and character

I gave it a 10 the first time I watched, but after a second viewing I recognized some of it's flaws in terms of pacing and character development. I like it a lot, but not nearly as much as Blue Valentine.

…

Expand

"The Place Beyond the Pines" although, interesting, unique and thought provoking, was slightly confusing and drawn out.

This was a story of"The Place Beyond the Pines" although, interesting, unique and thought provoking, was slightly confusing and drawn out.

This was a story of a motorcycle stunt rider (Ryan Gosling), who turns to robbing banks after finding out a former fling (Eva Mendes) has given birth to his son. This story also follows a young cop and new father (Bradley Cooper) and his struggle to make the right decisions when faced with tough ethical dilemmas. The story concludes by following some of the high school years of the children of Gosling and Bradley's characters.

Ryan Gosling, Bradley Cooper, and Eva Mendes were perfectly casted and they did a terrific job in this crime drama.

The storytelling and dialogue made it feel very realistic. In the middle of the film, the story took a turn unlike anything I can recollect seeing in any other movies. Had it not been as long and slow, I think I would've liked it significantly more. I believe this film will be liked by some but will probably disappoint most others. It's not exactly the feel good movie of the year.

It had some exciting moments with the intense one-shot bank robberies and fast paced escapes via motorcycle. I thought the motorcycle stunts and chase scenes were thrilling.

I liked the cinematography and long shots, the drama and acting was great, but due to the pace of the movie, it made it tough for me to enjoy.

If you like "Drive", "Killing Them Softly", or "Bandits", you will probably enjoy this movie.

My grade for this film: B-

To view my grading scale, go to: Facebook.com/CriticWes
To view my movie blog, go to: http://www.mix93.com/pages/16393587.php?

…

Expand

I read through the positive user reviews of this movie, and it made me think I watched a different movie, than the one they viewed. The way

I read through the positive user reviews of this movie, and it made me think I watched a different movie, than the one they viewed. The way the go into detail about the positives, makes me think they are part of the production crew. I was bored out of my mind watching this. I kept checking my phone countless times, to look at the clock.
I want the last two hours of my life back!!

…

Expand