Release Date:

Nov 25, 2009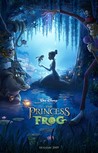 Starring:

Anika Noni Rose

,

Keith David

,

Oprah Winfrey

Summary:

The Princess and the Frog is a modern twist on a classic tale, featuring a beautiful girl named Tiana, a frog prince who desperately wants to be human again, and a fateful kiss that leads them both on a hilarious adventure through the mystical bayous of Louisiana. (Walt Disney Pictures)
Director:

John Musker

and

Ron Clements

Genre(s):

Fantasy

,

Romance

,

Animation

,

Family

,

Musical

Rating:

G

Runtime:

97 min
What matters is that Tiana triumphs as both a girl and a frog, that dreams are fulfilled, wrongs are righted, love prevails, and music unites not only a princess and a frog but also kids and grown-ups.

The Princess and the Frog invite viewers to see the world as a lively, mixed-up, even confounding place, to recognize essential parts of ourselves in what we see, and to say: This is what we look like.

Randy Newman's songs are catchy and are effective within the movie's context, but I can't see any of them having "legs" beyond the screen the way tunes from the earlier animated musicals did.

Exactly as good as Musker and Clements' earlier efforts, so a return to the form of Disney's early 1990s classics. The animation is gorgeous, the heroine feisty and the animals amusing -- but this may be too scary for the very small.

Overall, the film is not quite up to "Aladdin" and "The Little Mermaid" from the same directing team of Ron Clements and John Musker, not to mention the recent string of masterpieces from Pixar.

It's a worthy cause and an honorable film, the first full-length Disney cartoon with an African-American heroine. But without a strong story, it's a case of one step forward and two steps back.
Finally, a memorable movie from Disney that we haven't seen in years. Definitely up there with "Aladdin" and "The Little Mermaid".

Finally, a memorable movie from Disney that we haven't seen in years. Definitely up there with "Aladdin" and "The Little Mermaid". It's no, "Beauty and the Beast", but certainly an instant classic. The characters are so well-developed, the relationships are strong, Tiana and Naveen have great chemistry, the music is surprisingly pleasant, and everything follows. This movie is this generation's versions of "The Little Mermaid", instantly.

…

Expand

this is excellent! great voice acting, great writing, great animation, great everything!

Excellent movie that really had a lot of 90s animation nostalgia. I was really glad Disney decided to go back and try 2d animation after a

Excellent movie that really had a lot of 90s animation nostalgia. I was really glad Disney decided to go back and try 2d animation after a long absence, and I do hope the upcoming Winnie the Pooh movie won't be the last Disney 2d movie.

…

Expand

It's a great movie, a fun movie, an entertaining movie, and a beautiful movie. But there is something missing. Something that

It's a great movie, a fun movie, an entertaining movie, and a beautiful movie. But there is something missing. Something that doesn't quite live up to Disney standards, and I can't put my finger on it. Some scenes will have you thinking, "Move it along." But all-in-all, I loved it. The ending was pure genius! SPOILER ALERT: Could someone please explain to me why Disney feels the need to continually kill off main characters? It was completely unnecessary, and I saw at least 3 kids crying.

…

Expand

This review contains spoilers, click expand to view.

Princess and the Frog is a great movie. The main characters are good and have an interesting relationship. The villain is cool. The message is awesome and differs from the typical Disney message. The story is good as well. It is the same story we

…

Expand

I liked this movie...but I didn't LOVE it as much as everybody else did...and I do have my own reasons.

Disney's 'The Princess and theI liked this movie...but I didn't LOVE it as much as everybody else did...and I do have my own reasons.

Disney's 'The Princess and the Frog' follows the story of a young woman named Tiana, who, ever since she was a child, wanted to open her own restaurant after the legacy was left from her father (dead parents in a Disney film huh). While she tries to live her dream, a handsome prince named Naveen is attending Now Orleans but runs into Facilier, the main villain of the movie who performs voodoo and transforms Naveen into a frog.

To get rid of the curse, Naveen must kiss a princess, when he runs into Tiana, the ironic thing is, when she kisses him, she turns into a frog as well. Their journey and the movie takes place with them being frogs.

I assume the reason everybody loves this movie is because it is 2D animated, and yes, it does look wonderful, it has that "old-school" Disney feel to it. Plus, an introduction to an African-American princess is also reassuring. The only problem I have with this movie in terms of the fact that it is not on par with 'Beauty and the Beast' (1991) or 'The Lion King' (1994) is that the characters I thought were very thinly written. Tiana isn't that much fun, I know she is supposed to be a career-driven woman, but she isn't as plucky as previous princesses. Naveen also isn't much fun either, he delivers comedy, but isn't memorable.

The songs by Randy Newman are mostly misses too, I don't remember them being that good, his best song is "When she loved me" from 'Toy Story 2' (1999).

The film is directed by Ron Clements and John Musker, who gave us other Disney films such as; 'The Little Mermaid' (1989), 'Aladdin' (1992) and 'Hercules' (1997). These films, while classics, also had trouble with memorable characters.

'The Little Mermaid' had sing-a-long songs, whimsical side characters and beautiful animation, but Ariel's love interest, Eric, was a good-looking man, but there's not much else interesting about him.

'Aladdin' had Robin Williams as the Genie, delivering all the comedy, but the main couple Aladdin and Jasmine looked more like brother and sister, and there wasn't much development with their love.

Despite all of this, these two films are still great, every film has their few flaws.

'Hercules' I remember I didn't particularly like, I don't hate it, but the songs were great and James Woods was fantastic, but the movie didn't live up to my standards unfortunately.

Overall, I give 'The Princess and the Frog' a 6/10 for the stunning 2D animation and the racial diversity in the "Disney Princess" line-up. But the songs are disappointing and the film itself with the characters are thinly written. Even after this film, 'Tangled' (2010) and 'Frozen' (2013) were improvements, but not because they were animated in 3D, they had their own ways of being unforgettable Disney films.

…

Expand

This was such a bad film that if i could i would give it -100 because it wasnt funny, to much singing and it was predictable. I will never

This was such a bad film that if i could i would give it -100 because it wasnt funny, to much singing and it was predictable. I will never watch a more horrificly bad film like that again... Hopefully

…

Expand