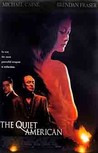 Starring:

Brendan Fraser, Michael Caine

Summary:

From the classic novel by Graham Greene comes a murder mystery centered on a love triangle set against the French Indochina War in Vietnam circa 1952. (Miramax)
Director:

Phillip Noyce

Genre(s):

Drama, Thriller, Romance, War

Rating:

TV-MA

Runtime:

101 min
It is a film with a political point of view, but often its characters lose sight of that, in their fascination with each other and with the girl.

The second version of Graham Greene's sad and prescient 1955 novel about American involvement in Vietnam hews far closer to the book than the first, preserving the sophisticated ambiguity of his depiction of a tangled struggle for power played out on both personal and political fronts.

The movie adds nothing to the political dialogue, and the love story is mood-killingly sad. The lure of the exotic can be deceptive, it says. The moody, murky atmosphere leaves nothing clear except that mixed intentions will always yield mixed results.

As is frequently the case when there is public fuss about a film or play, the work itself is not very good.