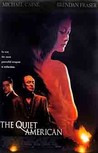 Starring:

Brendan Fraser

,

Michael Caine

Summary:

From the classic novel by Graham Greene comes a murder mystery centered on a love triangle set against the French Indochina War in Vietnam circa 1952. (Miramax)
Director:

Phillip Noyce

Genre(s):

Drama

,

Thriller

,

Romance

,

War

Rating:

TV-MA

Runtime:

101 min
The narrative is lean, the supporting performances are solid, and, perhaps most crucially, the emotional tone of the piece is spot-on.

The film reveals itself to be not so much a historical allegory as an Iliad of the heart. It's sad and smart and beautiful and true.

It is a film with a political point of view, but often its characters lose sight of that, in their fascination with each other and with the girl.

As a piece of acting, The Quiet American represents a fitting capper to Caine's illustrious career; his portrait of a jaded sybarite whom history nudges into conscientious action is among the year's most moving.

Caine has never been better, which is saying something. He puts a human face on a tragic era of history in a film that ranks with the year's finest.

As is frequently the case when there is public fuss about a film or play, the work itself is not very good.