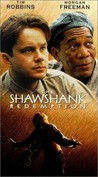 Starring:

Morgan Freeman

,

Tim Robbins

Summary:

Wrongly convicted, Andy Dufresne (Robbins) is sentenced to two consecutive life terms in in Maine's Shawshank prison for the murders of his wife and her lover. Set in the 1940's, the film shows how Andy learns to get by in the brutal confines of prison, even earning the respect of his

Wrongly convicted, Andy Dufresne (Robbins) is sentenced to two consecutive life terms in in Maine's Shawshank prison for the murders of his wife and her lover. Set in the 1940's, the film shows how Andy learns to get by in the brutal confines of prison, even earning the respect of his fellow inmates, most notably the longtime convict "Red" Redding (Freeman).

…

Expand
Director:

Frank Darabont

Genre(s):

Drama

,

Crime

Rating:

R

Runtime:

142 min
Please enter your birth date to continue:
You are not allowed to view this material at this time.
A thumpingly good ode to friendship, hope, wit, wiles and wisdom, brimming with crackling characters and topped with the most twisteroo of twists since "The Crying Game."

There are times when The Shawshank Redemption comes dangerously close to sounding one of those "triumph of the spirit" notes. But most of it is eloquently restrained. [23 Sept 1994, p.C3]

As the uptight banker, Robbins does some of his subtlest acting to date. As his hardened but resilient friend, Freeman is simply miraculous, giving the role so much depth, dignity, and good humor that you feel that you've known this man forever. [27 Sept 1994]

Whitmore's Brooks is a brilliantly-realized character, and the scenes with him attempting to cope with life outside of Shawshank represents one of the film's most moving -- and effective -- sequences.

Some of "The Shawshank Redemption'' comes across as outrageously improbable. Yet the film keeps pulling you back with its sense of striving humanity slowly turning the tables against evil.

Speaking of jail, "Shawshank"-the-movie seems to last about half a life sentence. The story, chiefly about the 20-year friendship between Freeman and Robbins, becomes incarcerated in its own labyrinthine sentimentality.
The Shawshank Redemption is on top of IMDb, so I think everything about it has already been said.
I have just one thing to add: The brutalThe Shawshank Redemption is on top of IMDb, so I think everything about it has already been said.
I have just one thing to add: The brutal scenes aren't a bad thing and demonstrate the terrible place, where Andy and Red have to spend theirs lifes.

…

Expand

One of the best movies of all time. Don't deprive yourself of the pleasure of watching such a stellar movie. Go now and watch this movie if

One of the best movies of all time. Don't deprive yourself of the pleasure of watching such a stellar movie. Go now and watch this movie if you have never seen it. Perfect casting, amazing story, emotional performances. Just perfect.

…

Expand

I understand why this movie is top-1 on IMDB. This is really the best movie of all times. Great, perfect, incredibly good acting, perfect

I understand why this movie is top-1 on IMDB. This is really the best movie of all times. Great, perfect, incredibly good acting, perfect actors group, unimaginable plot. You feel every emotion catching every step of characters. Just amazing, awesome movie.

…

Expand

I made my mind to watch this movie in 2012 as most of users recommended on IMDb. I always wonder what could be one thing that makes Shawshank

I made my mind to watch this movie in 2012 as most of users recommended on IMDb. I always wonder what could be one thing that makes Shawshank legend of Hollywood movies. Well, I gotta say I found my favorite actor of lifetime after watching it: Morgan Freeman. Every single thing in the movie is 10/10. Story of Stephen King, screenplay, dialogs, drama, suspense, crime and action. I compare Morgan to Amitabh Bachchan of Hollywood. The brief voice of Freeman moves me whenever I heard him. I never gets tired watching it again and again, its that kind of out of this world picture. I still sit back in ave and can't help myself from watching it again and again. Thanks to strong direction and support staff, this makes to top my list all-time.

…

Expand

A film about hope. It is definitely one of the greatest prison films of all time. The movie delivers great messages and displays concepts,

A film about hope. It is definitely one of the greatest prison films of all time. The movie delivers great messages and displays concepts, like the concept of justice, very well. Freeman and Robbins both deliver great performances, and both portray seemingly likable characters. This film is just very well written and just overall an excellent production.

…

Expand

Brings Stephen King's novella to life and even better. The Shawshank Redemption is a fantastic movie and rightfully belongs in the list

Brings Stephen King's novella to life and even better. The Shawshank Redemption is a fantastic movie and rightfully belongs in the list of The Greatest Movies of all time.

…

Expand

Freeman is 'red' freedom character searching for nothing but to pace his life in prison. Robins is a robin hood who does more

Freeman is 'red' freedom character searching for nothing but to pace his life in prison. Robins is a robin hood who does more strength than the hero, he becomes a prisoner, also a librarian, teacher, friend, and smart banker who reads books. These two characters start off and end off by learning how to live trying and die trying. I do not enjoy a film that drags on, bores, and tells a message with bad wording, a bad script, and badly done lesson, that prisoners get the rights to do many things than sit in a rotting cell and eat disgusting food all day.

…

Expand