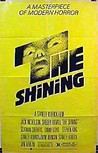 Starring:

Jack Nicholson

,

Shelley Duvall

Summary:

A married couple with a small son are employed to look after a resort hotel high in the Colorado mountains. As a result, they are the sole occupants during the long winter. The hotel manager warns them not to accept the job because of a tragedy that occurred during the winter of 1970. (Warner Bros.)
Please enter your birth date to continue:
You are not allowed to view this material at this time.
Ostensibly a haunted house story, it manages to traverse a complex world of incipient madness, spectral murder and supernatural visions ...and also makes you jump.

But there is no way, within the film, to be sure with any confidence exactly what happens, or precisely how, or really why. Kubrick delivers this uncertainty in a film where the actors themselves vibrate with unease.

Meticulously detailed and never less than fascinating, The Shining may be the first movie that ever made its audience jump with a title that simply says "Tuesday."

Stephen King reportedly loathed the liberties Kubrick and co-writer Diane Johnson took with his story, but King's ur-villain, the emasculated husband from hell, has never been more clearly presented on-screen.

It is a daring thing the director has done, this bleaching out of all the cheap thrills, this dashing of all the hopes one brings to what is, after all, advertised as "a masterpiece of modern horror." Certainly he has asked much of Nicholson, who must sustain attention in a hugely unsympathetic role, and who responds with a brilliantly crazed performance.

The crazier Nicholson gets, the more idiotic he looks. Shelley Duvall transforms the warm sympathetic wife of the book into a simpering, semi-retarded hysteric.

Kubrick is after a cool, sunlit vision of hell, born in the bosom of the nuclear family, but his imagery--with its compulsive symmetry and brightness--is too banal to sustain interest, while the incredibly slack narrative line forestalls suspense.
This review contains spoilers, click expand to view.

If there's one pure horror film that deserves the Best Picture Oscar just for its overall terrific (and terrifying) atmosphere, it's THE SHINING. I've only seen one of Stanley Kubrick's other films, which was 2001: A SPACE ODYSSEY, and if you think that Stanley Kubrick only makes those kinds of films, think again. This brilliant man takes mastermind Stephen King's already-horrific novel and crafts it into his own ingenious, twisted work that is probably more frightening than the book itself. And there's Jack Nicholson, who does an outstanding performance as psychopath Jack Torrance. When I saw this film, my immediate thought was that Nicholson's character was just as I imagined Torrance's personality while reading the source novel. It's possible to admit that sometimes Jack Nicholson does go a little loopy with his role, making it often seem more like his role as the Joker in BATMAN nine years later, but he never seems to go overboard, and his character always enhances the eerie-ness of the entire film. All in all, THE SHINING is a must-see. It's certainly not one of those "spewing guts" films where everything is grotesque blood and gore. Instead, the horror comes from the creepy, sadistic, intense mood, as this is a well-molded psychological horror. Add this to your shopping list (or your renting list) if you haven't seen it. See it again if you have already.

…

Expand

The Shining was another one of Kubrick's masterpieces. From what I've seen, The Shining is Stanley Kubrick's second best film following 2001:

The Shining was another one of Kubrick's masterpieces. From what I've seen, The Shining is Stanley Kubrick's second best film following 2001: A Space Odyssey.

…

Expand

My favorite film of Kubrick's. You feel like you're becoming as mad as Johnny while watching, building up cabin fever and fear in a mixture of

My favorite film of Kubrick's. You feel like you're becoming as mad as Johnny while watching, building up cabin fever and fear in a mixture of nauseous scenes.

…

Expand

This review contains spoilers, click expand to view.

I haven't read the novel, so I can't really comment about differences (much like the author has). But, I love Nicholson, and I really can't imagine anyone else filling the role of the father. Jack just brings such a powerful, evil, maniacal presence that he (IMO) has claimed that role as his own. The rest of the cast is filler to me. Nicholson's slow fall into madness (or, is it possession? Reincarnation?) builds to a great climax. Jack wielding his axe (which to my understanding is a croquet mallet in the novel, and one of the points of contention by Mr. Stephen King) is one of the best scenes I've ever seen.

…

Expand

A great movie with thrilling elements - the movie is long but it builds up in a way that the classic horror plot isn't followed (except for

A great movie with thrilling elements - the movie is long but it builds up in a way that the classic horror plot isn't followed (except for the ancient burial ground which is a basis for many horror movies now, maybe not in the 1980s) and chooses to evoke tension as the basis for horror rather than death. There's a huge lack of gore and conventional ideas that are used nowadays to shock, and even a lack of jumpscares. This is a very 'refined' horror film.

…

Expand

Something I quite enjoyed about this is that this was a horror move with absolute minimal gore. One problem, though. IT IS ONLY OFFICIALLY A

Something I quite enjoyed about this is that this was a horror move with absolute minimal gore. One problem, though. IT IS ONLY OFFICIALLY A HORROR MOVIE. I watched this when I was 12 years old, and I wasn't scared at all! One thing that might've made it less scary, in my opinion, was that it wasn't some kind of serial killer. Only one family was really being haunted in one specific hotel, and it was extremely unlikely to happen to any random person at home. A popular opinion that I agree with would also be the acting. Jack Nicholson did pretty well, but, even though he's supposed to be deranged, sometimes it seemed as if he was too crazy to the point it was annoying and/or unnecessary. The wife was terrible, though. She cried like she just had strong hiccups, her screams were a bit unrealistic and annoying, and she was just overall, a bad actor. Nobody else was great or bad. The storyline was okay, as it was simple, but showed how isolation changes you. The storyline itself was not very creepy, and lacked depth, too. In the end, I give it a 7. I personally value it a little less, but I think the actual quality of the film was better than in my opinion.

…

Expand

Possibly the dumbest movie I've seen. Not scary at all. The characters and their acting were laughably bad, especially the wife... every

Possibly the dumbest movie I've seen. Not scary at all. The characters and their acting were laughably bad, especially the wife... every time she walked, talked or screamed, I could not take her seriously.

…

Expand