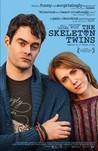 Starring:

Bill Hader

,

Kristen Wiig

,

Luke Wilson

Summary:

After ten years of estrangement, twins Maggie and Milo coincidentally cheat death on the same day, prompting them to reunite and confront how their lives went so wrong. As the twins' reunion reinvigorates them both, they realize that the key to fixing their lives just may lie in fixing their

After ten years of estrangement, twins Maggie and Milo coincidentally cheat death on the same day, prompting them to reunite and confront how their lives went so wrong. As the twins' reunion reinvigorates them both, they realize that the key to fixing their lives just may lie in fixing their relationship with each other.

…

Collapse
Director:

Craig Johnson

Genre(s):

Drama

Rating:

R

Runtime:

93 min
Please enter your birth date to continue:
You are not allowed to view this material at this time.
This is a smart movie about complicated people in search of something approaching inner peace.

Wiig and Hader give winning, finely nuanced turns in a film that deftly mixes light and dark. Also features the best use of 'Nothing's Gonna Stop Us Now' since Mannequin…

Craig Johnson's film is ultimately most interested in what its jokes are implying or obscuring about the jokesters themselves.

If a movie with suicide as a central theme can be deemed funny, then writer/director Craig Johnson has pulled it off, mixing heartache and humor and giving Wiig, especially, the opportunity to shine.

While it's only modestly effective at the serious stuff, at least it's free of sanctimony and preciousness.

The Skeleton Twins has a pair of terrific, sharply etched lead performances, a polished, autumnal look, and some affecting moments where its protagonists bond. But to borrow a water-based metaphor from the film's overflowing stock of them, The Skeleton Twins just lies there, cold and clammy, like a dead fish.
My friend and I really loved this movie. The two lead actors, Bill Hader and Kristen Wiig, are terrific. I did not realize they could hold

My friend and I really loved this movie. The two lead actors, Bill Hader and Kristen Wiig, are terrific. I did not realize they could hold their own so nicely in dramatic roles. The film also had plenty of humor, of course, and I knew that they were terrific in that area. They exceeded my expectations in every way, and so did the film. The other actors were also great. There are not too many films that focus on siblings. This one did and the story really came for life for me, thanks to the fine acting. I found it touching.

…

Expand

This was an outstanding blend of comedy and drama, something that is always very difficult to pull off. And the acting was spectacular. You

This was an outstanding blend of comedy and drama, something that is always very difficult to pull off. And the acting was spectacular. You could really feel the chemistry that probably stems from their SNL days.

…

Expand

Really enjoyed this black comedy about siblings. if you have a brother or sister, and even a slightly unconventional life or relationship with

Really enjoyed this black comedy about siblings. if you have a brother or sister, and even a slightly unconventional life or relationship with your sibling (and I have 4 sisters!) you will see part of your life and relationship reflected here, and it's not often that any movie attempts to explore the bother-sister relationship in an open and honest way. The 4 main actors are excellent (esp. bill hader)and if you see the movie with reduced or realistic expectations, you will walk away with a smile. ( my 24 year old daughter took me to see it and she liked it quite a bit too).

…

Expand

This film works because while it's themes are depressing there are enough laughs to keep the film level. By the end you feel yourself caring

This film works because while it's themes are depressing there are enough laughs to keep the film level. By the end you feel yourself caring about the characters and they're fate. B+

…

Expand

The Skeleton Twins is a really endearing, funny, and emotional film on the realistic struggles faced by two siblings. Starring Bill Hader and

The Skeleton Twins is a really endearing, funny, and emotional film on the realistic struggles faced by two siblings. Starring Bill Hader and Kristen Wiig, the acting here is very good and helps with the authentic feeling of the film. An incredibly sensitive and touching film, The Skeleton Twins manages to touch on topics such as marriage, depression, infidelity, and just general struggles as you get older, especially when you grow in distance from your family. Well-written and well directed, The Skeleton Twins is a delightful little indie film that is both entertaining and incredibly mature. It really never steps on the breaks, instead opting to continue pushing through the various family drama elements it touches on and, as such, the film can be quite emotionally draining. Fortunately, the jokes do lighten the mood considerably. Overall, The Skeleton Twins is a good film that is more than worth your time.

…

Expand

The film has its moments, but it doesn't deserve 74/100. Its a bit predictable and to be blunt, a bit boring. I hate to say it but I feel like

The film has its moments, but it doesn't deserve 74/100. Its a bit predictable and to be blunt, a bit boring. I hate to say it but I feel like this site inflates the score by like 10-15 points if there is a gay protagonist or gay themes. The film is average, I certainly wouldn't recommend it. Its not very funny and despite being well acted, the characters and the dialogue are lame.

…

Expand

less depressing than it seems like it will be... still....very depressing....interesting how they dressed as eachother and interesting how

less depressing than it seems like it will be... still....very depressing....interesting how they dressed as eachother and interesting how the luke wilson didn't think girls pooped...I'm convinced their poop is white and upsiedown.....dam television....trying to overpopulate us all...inflation is not necessary...

…

Expand