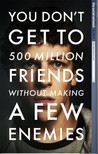 Starring:

Andrew Garfield

,

Jesse Eisenberg

,

Justin Timberlake

Summary:

On a fall night in 2003, Harvard undergrad and computer programming genius Mark Zuckerberg (Jesse Eisenberg) sits down at his computer and heatedly begins working on a new idea. In a fury of blogging and programming, what begins in his dorm room soon becomes a global social network and a

On a fall night in 2003, Harvard undergrad and computer programming genius Mark Zuckerberg (Jesse Eisenberg) sits down at his computer and heatedly begins working on a new idea. In a fury of blogging and programming, what begins in his dorm room soon becomes a global social network and a revolution in communication. A mere six years and 500 million friends later, Mark Zuckerberg is the youngest billionaire in history... but for this entrepreneur, success leads to both personal and legal complications. [Columbia Pictures]

…

Expand
Director:

David Fincher

Genre(s):

Biography

,

Drama

,

History

,

Comedy

Rating:

PG-13

Runtime:

120 min
Please enter your birth date to continue:
You are not allowed to view this material at this time.
With a thieves den of borderline-Shakespearian characters, a wickedly literate screenplay, potent direction by David Fincher, an exceptional ensemble cast and subject matter that speaks to a generation and well beyond, The Social Network is mesmerizing.

The film owes much of its success to the inspired pairing of Fincher and Sorkin.

A work deeper than its nickname, "The Facebook Movie," hints at - coils around your brain. Weeks after seeing it, moments from it will haunt you.

The performances, direction and writing of one of the best pictures of 2010 make this Social Network every bit as addictive, and a little chilling as well.

All I can say about Timberlake's performance as the thoroughly odious, desperately seductive, textbook-case metrosexual Parker is that he brings so much reptilian fun that he unbalances the movie, almost fatally.

It's an entertainingly cynical small movie. Aaron Sorkin's dialogue tumbles out so fast it's as if the characters want their brains to keep pace with their processors; they talk like they keyboard, like Fincher directs, with no time for niceties.
"The Social Network" was so good I don't even know where to begin. I can't, for the life of me, think of another film in recent years that's

"The Social Network" was so good I don't even know where to begin. I can't, for the life of me, think of another film in recent years that's left me so wholeheartedly satisfied by the time the credits started rolling. This is some amazing, amazing stuff we've got here folks: don't miss it for the world.

…

Expand

he year of 2010 ushered in a series of excellent films. From Toy Story 3 to Black Swan, there was truly a gold mine of brilliant movies to

he year of 2010 ushered in a series of excellent films. From Toy Story 3 to Black Swan, there was truly a gold mine of brilliant movies to choose from. But there was one film that stood out from all others, a film that truly engulfed you in the mind of a brilliant yet socially impaired Harvard undergraduate, as he works his way up to the top of the online social world. I speak, of course, of The Social Network.

David Fincher strikes gold with his latest entry, as he takes us into the world of Facebook founder and CEO Mark Zuckerberg. Although the combination of Fincher and writer Aaron Sorkin (The West Wing, Malice, A Few Good Men) may seem like a mismatch, it is anything but. Sorkin excels in snappy, fast-paced dialogue, which finds its place well in the film. Fincher's trademark dark directing style also suits the film, and although it isn't nearly as dark as some of his other films (Fight Club, Se7en, Zodiac), it is glaringly apparent that Fincher is the man behind the camera.

The casting is completely flawless, with Jesse Eisenberg, Andrew Garfield, Armie Hammer, and Justin Timberlake starring in what could be the best film that any of them will be a part of. Eisenberg portrays a smart, lonely, and somewhat overly confident Mark Zuckerberg, as he is in the process of creating the Facebook, a massive social networking site that will help to link friends around the world. Garfield plays Zuckerberg's best friend and co-founder of Facebook, Eduardo Saverin. Saverin is a smart, good-hearted student who attempts to stick with Mark through all his endeavors. Armie Hammer portrays the Winklevoss twins (with the excellent use of split-camera shots and body doubles), Tyler and Cameron, who are also Harvard students interested in building a social networking site alongside Zuckerberg. Timberlake plays Napster founder Sean Parker, a secretly malevolent business partner to Zuckerberg, who works to cut Saverin out of the picture and bring Facebook to the forefront of the social networking scene.

Opening with a breakup between Zuckerberg and his then (somewhat fictionalized) girlfriend, Erica Albright, the viewer sees that Mark is a socially inept, albeit brilliant, student who constantly feels the need to remind the world that he is indeed a genius. From there, Zuckerberg works to make a name for himself, in order to make it into a Harvard Final Club, which Saverin had recently been inducted into, much to the resentment and jealousy of Zuckerberg. Through a series of unflattering actions taken by Mark, he partners up with the Winklevoss twins, and promises to help them design their Harvard-exclusive dating site. Unbeknownst to the twins, Mark begins to design the Facebook with his roommates and Saverin. Upon growing immensely popular, two events unfold that change Facebook permanently: Mark is introduced to Sean Parker of Napster fame, and the Winklevoss twins sue Zuckerberg for intellectual property theft.

The interactions between characters is perfect, with Sorkin's writing truly shining throughout. Exchanges between Zuckerberg and any of the others in support of him are quick, witty, and contain a bitter undertone. Switching between two lawsuits against Mark, and the time of Facebook's inception. Done seamlessly, Fincher bridges each scene with confidence and aptitude. Eisenberg delivers a magnificent performance, and manages to achieve the seemingly impossible task of making the viewer sympathize for the seemingly cold and heartless Zuckerberg. Justin Timberlake's portrayal of Sean Parker is brilliant, as he takes advantage of Mark's tunnel vision to write Saverin out of the picture entirely. The score, written and performed by Trent Reznor (industrial rock band Nine Inch Nails) and Atticus Ross, adds a beautiful undertone to each scene, varying from slow-paced keyboard playing, to quick, upbeat techno-esque rhythms, all of which add to the emotion and feel of the film perfectly. There is no doubt that Sorkin, Ross, and Reznor earned their Academy Awards, as their contributions make the film truly shine.

The Social Network is director David Fincher's undoubted magnum opus. Take a witty, unrelentingly fast script, a handful of excellent performances, a dark, yet precise directing style, and a captivating score, and you have the grounds for a memorably brilliant film. The Social Network has all of said elements in abundance, and manages to never overstay its welcome. With a two hour run time, it keeps viewers completely riveted to see what will happen next. Whether or not The Social Network deserved the Best Picture Oscar for its year, it is undoubtedly a masterpiece that will not soon be forgotten.

…

Expand

This movie is the bomb. A true inspirational movie that shows how life can be in college if you are someone special. A flawless movie and a

This movie is the bomb. A true inspirational movie that shows how life can be in college if you are someone special. A flawless movie and a great drama. A must watch.

…

Expand

This review contains spoilers, click expand to view. As Published in The Bradley Scout

When you start a movie off with a White Stripes song, it tends to get my attention and high expectations follow. (I wonâ

…

Expand

The biggest of various achievements on The Social Network is directing. Mr. Fincher's work is unique and revolutionary. The editing, sound

The biggest of various achievements on The Social Network is directing. Mr. Fincher's work is unique and revolutionary. The editing, sound mixing, and fine acting made this movie a modern classic.

…

Expand

it's a good movie, but, i expected more when i read the reviews but, never mind. The dialog and the script were great. they were beyond great.

it's a good movie, but, i expected more when i read the reviews but, never mind. The dialog and the script were great. they were beyond great. the characters are likable and Jesse Eisenberg did a great job. it sure was hard to act that role. well, it's worth seeing i guess..

…

Expand

We can't deny the phenomen of facebook but this film is about a bunch of obnoxious Young men fighting for money . It is David finchers least

We can't deny the phenomen of facebook but this film is about a bunch of obnoxious Young men fighting for money . It is David finchers least stylish and engaging film so far. No character study / depth or philesophical approach. All we can see a boring , overrated , dull " show me the money , baby" movie

…

Expand