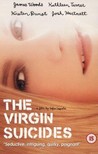 Starring:

Josh Hartnett

,

Kirsten Dunst

Summary:

After the suicide death of their youngest sister, the surviving daughters of the Lisbon family descend into a deep melancholy and eventually become isolated socially and physically by their parents (Woods, Turner) within their small-town Michigan house. Their only contact with the outside

After the suicide death of their youngest sister, the surviving daughters of the Lisbon family descend into a deep melancholy and eventually become isolated socially and physically by their parents (Woods, Turner) within their small-town Michigan house. Their only contact with the outside world is a group of neighborhood boys who become obsessed with watching and attempting to communicate with the girls.

…

Expand
Director:

Sofia Coppola

Genre(s):

Drama

,

Mystery

Rating:

R

Runtime:

97 min
Please enter your birth date to continue:
You are not allowed to view this material at this time.
(Coppola) connects with the essential purity of Eugenides' story, stripping it down to its bare essentials and cutting straight to everything that's wonderful about it.

Coppola infuses her movie with a dreamy poetic tone, and deftly translates the essential metaphors of youth, sexuality and death without sacrificing an earthy humor.

An artful blend of '70s detail and dreamlike moodiness makes Coppola's first movie an exceptionally promising directorial debut.

Humor prevails throughout, but it doesn't deflate the disturbing elements of the tale, which miraculously manages to stay droll, heartfelt and poignant to the end.

Sofia Coppola, who's directed the film from her own screenplay, narrowly misses making the story work on the screen.
.
the movie is supposed to make you feel unsatisfied and empty.
viewers end up feeling exactly like the neighbourhood.
the movie is supposed to make you feel unsatisfied and empty.
viewers end up feeling exactly like the neighbourhood boys, and like the girls
its genius and haunting..
.

…

Expand

In Sophia Coppola's directorial debut we are witness to a series of tragic events that take place in a quiet suburban neighborhood in the

In Sophia Coppola's directorial debut we are witness to a series of tragic events that take place in a quiet suburban neighborhood in the 1970s. Based on the spectacular book by Jeffrey Eugenides, and featuring the music of Air, this movie is perfection. It is a hauntingly beautiful depiction of young love and the pains of shattered expectations.

…

Collapse

I thought that the portrayal of the actions of the boys was honest because I could relate to it, and because if I was in their shoes, I would

I thought that the portrayal of the actions of the boys was honest because I could relate to it, and because if I was in their shoes, I would have in the same way wanted to help the girls, in the same way would have been unable to do so, and in the same way would have done what I could.

…

Expand

Distinctly Sofia Coppolian, The Virgin Suicides is bleak and tragic. Occasionally funny--the film is one that will stick with its viewers.

Distinctly Sofia Coppolian, The Virgin Suicides is bleak and tragic. Occasionally funny--the film is one that will stick with its viewers. You'll understand why.

…

Expand

"The Virgin Suicides" is a coming of age but grim tale of strict parents dealing with their daughters, and a bunch of boys fall obsessed with

"The Virgin Suicides" is a coming of age but grim tale of strict parents dealing with their daughters, and a bunch of boys fall obsessed with them. The movie is twisted, but forgettable.

…

Expand

Too slow moving. No obvious main characters to follow, and we didn't really discover anything about anyone, no real character

Too slow moving. No obvious main characters to follow, and we didn't really discover anything about anyone, no real character development. The ending was obvious, but didn't tell us anything about their reasons for doing what they did, that's what the film was supposed to be about wasn't it?

…

Expand

A movie with no story and no real characters is rather pointless, isn't it? It's more of a pet project for Miss Coppola than

A movie with no story and no real characters is rather pointless, isn't it? It's more of a pet project for Miss Coppola than anything (the special features on the DVD are filled with infuriating self-praise and ego stroking).

…

Expand