Release Date:

Dec 25, 2003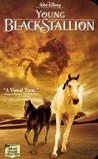 Starring:

Biana Tamimi

,

Richard Romanus

Summary:

Disney's first dramatic adventure made expressly for the Giant Screen; this is a prequel to 1979's "The Black Stallion." The film follows the adventures of young girl named Neera who finds herself alone in the desert when a wild stallion comes to her aid. (Disney)
Director:

Simon Wincer

Genre(s):

Adventure

,

Drama

,

Family

Rating:

G

Runtime:

45 min
Plenty of visuals but little of the rhythm, flow or characterizations that made the earlier film an instant children's classic.

The hoofbeats are seismic, the music is like hot cheese, and the sandy vistas thrill appropriately: It's a perfectly rousing Ben-Her of a centerpiece.

Stallion" has gorgeous cinematography with spectacular landscapes - plus a lazy script, forgettable performances and regrettably uninspired direction.

Does not measure up to its predecessor, but it's child-friendly and lasts only 45 minutes.

A visual treat diminished by lifeless dialogue and self-conscious acting.

Designed to maximize the visual opportunities for Imax's cameras even as it minimizes the dramatic conflicts that make for a satisfying moviegoing experience.