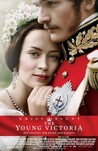 Starring:

Emily Blunt

,

Paul Bettany

,

Rupert Friend

Summary:

The story of Queen Victoria's early rise to power spans from her predicament as an object of a royal power-struggle in to her romantic courtship and legendary marriage to Prince Albert. (Momentum Pictures)
Director:

Jean-Marc Vallée

Genre(s):

Biography

,

Drama

,

History

,

Romance

Rating:

PG

Runtime:

105 min
Please enter your birth date to continue:
You are not allowed to view this material at this time.
The Young Victoria has a subtler flow than you might expect, and at times it's calmer than you may like. Director Jean-Marc Vallée's images have a creamy stateliness, but this is no gilded? princess fantasy.

This is a smartly told story, and as fresh as any contemporary romance.

Emily Blunt makes Victoria as irresistible a young woman as Dame Judi Dench made her an older one in "Mrs. Brown" (1997).

Despite the filmmakers' efforts to persuade us that The Young Victoria is a serious work, and despite some tense moments and gunfire, the movie's pleasures are as light as its story. No matter. Albert may never rip Victoria's bodice, but he does eventually loosen it, to her delight and ours.

The Young Victoria feels like a wasted opportunity and is among the least impressive in a long line of motion pictures about British royalty.

If not for Blunt's solid performance and good support from Friend and others, The Young Victoria would not be worth the price of the ticket.

Emily Blunt's Victoria and Rupert Friend's Albert come across like museum mannequins – utterly devoid of any genuine passion.
Yet another movie that has amazing talent! 10 out of 10! Acting, score, and story were all linked to greatness. If you're looking for a movie

Yet another movie that has amazing talent! 10 out of 10! Acting, score, and story were all linked to greatness. If you're looking for a movie with decency and morality, then this is a movie for you to watch!

…

Expand

A wonderful movie! Emily Blunt is superb.

This is perhaps one of the most historically correct films of this genre I think I've seen. It excels in every way from cinematography to

This is perhaps one of the most historically correct films of this genre I think I've seen. It excels in every way from cinematography to costumes. The performances are rich and honest. The characters are clearly written with historical accuracy. Emily Blunt was excellent as a young Victoria and Rupert Friend is perfect as Albert. It was a pleasure to see Paul Bethany, Miranda Richardson and Jim Broadbent used so well as were many others. What truly stands out here is not just the overall quality of the film but the historical accuracy. This deserved a lot more attention than it received and in some respects was actually better than The King's Speech.

…

Expand

We really enjoyed it. Luckily, it must have been made for me to enjoy and not the critics. I wish it had been even longer and more in depth.

Young Victoria is an unbelievably sumptuous period drama with great turns from it's strong cast. Better still, the movie is genuinely moving

Young Victoria is an unbelievably sumptuous period drama with great turns from it's strong cast. Better still, the movie is genuinely moving and romantic without feeling forced. An excellent film.

…

Expand

In my opinion, the coveted fifth spot up for grabs in the Best Actress Oscar race this year should go to Emily Blount. The Young Victoria is

In my opinion, the coveted fifth spot up for grabs in the Best Actress Oscar race this year should go to Emily Blount. The Young Victoria is an excellent film by the Director of C.R.A.Z.Y., a little seen but brilliant film, and Jean-Marc Vallee proves that it was no fluke. All credits are top notch, especially Sandy Powell's costumes and Julian Fellows script. but Ms. Blount carries the picture in the same way that Cate Blanchett was Elizabeth. A must see for Oscar followers.

…

Expand

Emily Blunt is very much excellent in this film, and definitely deserving of her Golden Globe nomination. Also, technically (especially when

Emily Blunt is very much excellent in this film, and definitely deserving of her Golden Globe nomination. Also, technically (especially when it comes to costume design and art direction/set decoration) the film excels. However, the story is rather slow and somewhat boring to be quite frank.
Also, very predictable and very "royal" in a way of character building. Yes, royalty is supposed to be all "royal" to the "common people" but they are real people, too, and that came across rather rarely, mainly due to the sceenplay. So basically, despite being visually great and with good performances, ultimately the story is so usual and so predictable (irrelevant on whether it is actually accurate historically or not - probably not completely, anyway) that one is left somewhat unsatisfied with the film. But it surely is not a bad film, by any stretch of the word. Definitely recommended to be watched for the great costumes and Emily Blunt's performance!

…

Collapse