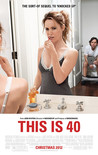 Director:

Judd Apatow

Genre(s):

Comedy

Rating:

R

Runtime:

134 min
Please enter your birth date to continue:
You are not allowed to view this material at this time.
This Is 40 isn't always hilarious, but it's ticklishly honest and droll about all the things being a parent can do to a relationship. And why it's still worth it.

We aren't used to comedies that make us squirm like this. That doesn't mean they aren't worth our time. This Is 40 is.

Although This is 40 is too long and at times over-the-top, its essence is grounded in everyday moments and emotions that will have viewers nodding with understanding and recognition.

Apatow's film comes across as overstuffed and understructured, a collection of elements that hasn't really been assembled into a story and could do with the backbone.

It displays a growing sense of fluidity and craft [from Apatow]. ... But much of the script feels oddly dishonest and dodgy.

Overlong, unnecessarily sex-obsessed and downright nasty at times, This Is 40 feels haphazard and unfinished, despite a few moments of laugh-out-loud humor.

The real problem with This Is 40 is its lack of truth, that Apatow wanted to express something about married life, and it eluded him. After all, no less than Kierkegaard once said that the actual dynamics of marriage are beyond the scope of art, and he was the best movie critic of the 19th century.
So funny!!!!!! I laughed my butt off. I love all of Judd Appatow's movies. There is always a great combination of hilarious and meaningful

So funny!!!!!! I laughed my butt off. I love all of Judd Appatow's movies. There is always a great combination of hilarious and meaningful sentiment towards them. Rudd and Mann make a great combo.

…

Expand

If you aren't laughing throughout this movie, then you are either not being honest with yourself about what it means to be 40ish, or take

If you aren't laughing throughout this movie, then you are either not being honest with yourself about what it means to be 40ish, or take yourself W-A-Y too seriously. This movie was like staring into the mirror. And yes, if you are 40ish, married, living in the 'burbs, with kids you have definitely had one or more of the conversations / situations depicted in the film. Judd Apatow has a knack for portraying comic honesty in real life. Judd Apatow's filmmaking seems to capture the basic flaw in Gen X, many of us lack some basic maturity. His films show us the reality of our stunted lives and make us laugh heartily. Congratulations to an accomplished filmmaker.

…

Expand

Overall, not bad. Many criticisms the critics brought up are valid. It's long, tonally uneven, some of the comic bits fall flat, etc. I feel

Overall, not bad. Many criticisms the critics brought up are valid. It's long, tonally uneven, some of the comic bits fall flat, etc. I feel like it had great potential to either be a hilarious comedy or a touching drama, but instead, it feels like two different movies awkwardly sewn together, instead of a seamless, singular whole; the comedic elements undermine the dramatic scenes, and vice versa. If you walk in the theater from a critical standpoint, you'll probably be left feeling disappointed, but if you approach it from a more casual standpoint, you'll find lots to enjoy. While the movie intermittently made me laugh and feel, it could have easily been a much better film if it committed to either comedy or drama. Also, they spoil the ending of Lost, so I'm subtracting an additional point off of my score. Yes, some of us still haven't finished watching that show.

…

Expand

Pete and Debbie, the loveable couple from Knocked Up, are back in the "sort of sequel" This Is 40. The couple are both turning 40, within days

Pete and Debbie, the loveable couple from Knocked Up, are back in the "sort of sequel" This Is 40. The couple are both turning 40, within days of each other, and decide that the number means it's time for a change, for them, as well as their family. They get new jobs and reconnect with family on their journey toward becoming a more mature couple, but it comes at a cost. Judd Apatow writes and directs this unique comedy, so I was expecting another hilarious winner, but they can't all be winners. The cast is fantastic and there are more than a few good laughs here, but this movie is extremely long and drawn out for a romantic comedy, and while it starts out strong, it starts to grow tiresome. There are many scenes between husband and wife that are boring and completely unnecessary. What I did like was how Apatow cast his daughters to be Pete and Debbie's daughters. They really are sisters and there was no pressure working for their dad, allowing them to really make it seem like this is a real family, and it's a good thing too, because for as good as both Paul Rudd and Leslie Mann are, they just didn't have much chemistry together. Both cast members were good in portraying their own characters, but when you put them together you see that something just isn't right about the pairing. I loved the concept and you will definitely laugh during this film, but it does lack a certain chemistry and is far too long for what it is.

…

Expand

sentimental, sometimes funny, typical Aptow navel gazing about emotional discovery and maturity. Wish he would get over the mid-life crisis

sentimental, sometimes funny, typical Aptow navel gazing about emotional discovery and maturity. Wish he would get over the mid-life crisis and make something funny again. It is comparable to Louis the television series in that it makes fun of real life, steals some of his jokes, and is a realistic humor on getting older, only not nearly as funny. It is well balanced in that Megan fox has few lines and is mostly camera fodder to make the viewer forget that he is watching a **** polished version of a boring married couple. Would have been much more interesting if Rudd and Mann actually tried to kill each other and not just joke about it. don't pay money to see it. online free version is watchable. not worth the price of admission.

…

Expand

This review contains spoilers, click expand to view.

What a disappointing movie, This is 40 turned out to be. Paul Rudd is hilarious and he was the best character from Knocked Up. Then factor in the premise of this film and you would think the movie would be fantastic. However, that couldn't be further from the truth. Yes, Paul Rudd is still great but other than him, this movie is horrible. First of all, the most obvious flaw is their daughters' complete and total lack of anything resembling acting ability. Honestly, is was just sad. I'm starting to side with a friend of mine who thinks kids should just be banned from acting in general because they're that bad. While I don't always agree with that assessment, he could use this film as Exhibit A when making his case. Secondly, the film's plot is pieced together like crap. I'm sorry but there's just no eloquent way to put it. This film made me question whether or not Judd Apatow even knows how to make a movie. Scenes jump from one to another without any rhyme or reason and a good portion of the scenes could be completely left out of the movie being that that add absolutely nothing to the character or plot development nor are they funny. Actually, that segues perfectly into my next point. This movie was WAY TOO LONG and you feel every minute of it, especially for the first half of the film, because of the terrible scene transitions. My last problem, the ending was a joke. Did Apatow forget about Rudd being hit by a car door? How does the result of that not get touched on before the conclusion of the film? Bottom line, Rudd is hilarious and Megan Fox is absolutely smoking but everything else about this movie is a big disappointment. Don't waste your time.

…

Expand

This movie is so bad it hurt my eyes to watch,Leslie Mann is less than a one trick pony and if she wasnt married to apatow she would be

This movie is so bad it hurt my eyes to watch,Leslie Mann is less than a one trick pony and if she wasnt married to apatow she would be dredging a living on reality shows....maybe.
Paul Rudd looks a sif he wants to scream.."where did it all go wrong"!
The only possible saving Grace is Mellisa Mcarthy who is always a joy.
dont watch this, you will never get the time back!

…

Expand