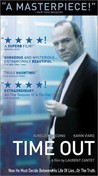 Starring:

Aurélien Recoing

,

Karin Viard

Summary:

After losing his job, Vincent (Recoing) can't bring himself to tell his wife (Viard) and children, so he wanders around France during the day, while they think he's at work, and finds himself on a moral and ethical journey of conscience that challenges the notions he's formed about life.

(ThinkFilm)

…

Expand
Director:

Laurent Cantet

Genre(s):

Drama

Rating:

PG-13

Runtime:

134 min
Cantet has rich insights into this material, and brings them alive through sensitive acting and powerful filmmaking.

This movie makes one grateful that a serious European art cinema still exists. [15 April 2002, p. 88]

A hushed, small-scale masterpiece that moves into the shadowlands of tragedy.

If the movie has a flaw, it's that the working out of Vincent's psychology is too perfect.

"Human Resources" was a good, straightforward tale, but Time Out is better. It's haunting. It's like a poem.

Recoing's meta-performance is an unemphatic marvel, his placid countenance stretched tight over telltale flickers: a quickly suppressed smirk of incredulous delight, a nervous twitch of chagrin, an abrupt pang of guilt.

Looks great but moves like molasses, is more interesting than truly involving.