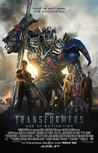 Director:

Michael Bay

Genre(s):

Action

,

Adventure

,

Sci-Fi

Rating:

PG-13

Runtime:

165 min
Please enter your birth date to continue:
You are not allowed to view this material at this time.
Age Of Extinction more than delivers on whatever promises Bay makes to an audience at this point. Giant robots. Giant mayhem. Destruction on a global scale. You know what you're in for if you buy a ticket, and Bay seems determined to wear you down with the biggest craziest Transformers movie yet.

Transformers has ambition and attitude in its pores, and spectacle to spare. Bay shoots cars like they're women, and people like they're cars, and tosses around metal like it's made from thin air. The film wasn't meant to make you think, but it does. For better or worse, it's cinema.

[A] visually stunning, technically impressive and crushingly dumb and overlong picture.

It is scattered, weightless, impossible to get hold of, and somehow, after seven years and more than 10 hours of screen time, I could not tell you what these films are about.

Ultimately, Age of Extinction is an endless barrage of nonsense and noise.

Belying its ominous title, Age of Extinction barely skirts the idea that humankind and planet Earth are about to be totally annihilated. What is extinguished is the audience's consciousness after being bombarded for nearly three hours with overwrought emotions...bad one-liners and battles that rarely rise above the banal.

The Bay-man has made the worst and most worthless Transformers movie yet. I know, hard to believe, right? How could any summer blockbuster be as dull, dumb and soul-sucking as the first three Transformers movies? Step right up.
Visuals and Audio are stunning. Dinobots and 3rd act still the show! Mark Walbergh is definitely a step up and Stanley Tucci delivers some of

Visuals and Audio are stunning. Dinobots and 3rd act still the show! Mark Walbergh is definitely a step up and Stanley Tucci delivers some of the best humor in the movie.

…

Expand

Transformers Age of Extinction is overall a very good movie in my opinion.The movie isn't going for an Oscar or anything but still the Visuals

Transformers Age of Extinction is overall a very good movie in my opinion.The movie isn't going for an Oscar or anything but still the Visuals and the story line were enough to keep me engaged until the very end.Maybe I just like big explosions,long running time movies and Robots fighting.What can I say,I enjoyed the movie.

…

Expand

I went to see this movie with low expectations as i was not a huge fan of the first three movies. I feel this film broke free from the common

I went to see this movie with low expectations as i was not a huge fan of the first three movies. I feel this film broke free from the common ground of the last two (World ending, 2 hours of fighting, not much plot or anything else). Don't get me wrong this film is very much in line with those movies but instead of the constant war we get some nice plot and much needed breaks in the action, this helped pace the movie better and also let the viewers get to know the Autobots more where as the other movies just threw in new ones with no personality or care whatsoever. This film is far from perfect, it's 2hr 45min run time is very long but i feel the pacing was sufficient and the time did not drag except for a few places here and there, the dinobots were also underutilized a lot which was to be expected really as it would have been a short film with such powerful bots with them at all times. Overall i would say this was a fun action movie for the summer, plenty of fun car chases that hark back to old 70's chase films, plenty of robot action and some enjoyable story aspects make this, in my opinion, the best transformers yet, not perfect, but definitely an improvement and definitely worth a watch.

…

Expand

This film epitomizes commercialism over art, and that's the reason I hate it. The film as a film is terrible, the poor is incoherent, the film

This film epitomizes commercialism over art, and that's the reason I hate it. The film as a film is terrible, the poor is incoherent, the film is loaded with dumb humor, poorly developed characters, terrible dialogue, laughable acting, and even more explosions in slow motion. All of this plus the fact that it feels like an almost 3 hour bud light commercial, is why I hate it.

…

Expand

Transformers: Age of Extinction lacks in originality, an interesting narrative or any sense of empathy towards the characters. The focus is on

Transformers: Age of Extinction lacks in originality, an interesting narrative or any sense of empathy towards the characters. The focus is on how much bigger the special effects can get from the previous film, evident in the emergence of the Dinobots in this film (which were definitely cool). However this does not warrant the absolute lack of any proper story, especially so when the film is bloated with tons of fight scenes with nothing remotely intellectually stimulating.

…

Expand

Actually, this is the worst of the four, and it´s in my top ten worst movies of the year, terrible, boring, uncreative, predictable, and

Actually, this is the worst of the four, and it´s in my top ten worst movies of the year, terrible, boring, uncreative, predictable, and incredibly but incerdibly... stupid, and the reason of all this is: the over-known ending, Optimu´s immortality, boring and not-funny script, obviously story, and the unnecessary over-expendable fight scenes... and dinosaurs.

…

Expand

Worst movie ever, everybody hates it because of the scene where a guy gets fried by a grenade and Optimus Prime doesn't care! Don't let

Worst movie ever, everybody hates it because of the scene where a guy gets fried by a grenade and Optimus Prime doesn't care! Don't let everybody watch it!

…

Expand