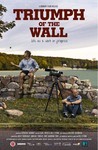 Summary:

Triumph of the Wall is a film about expectations, about two guys who embark on an eight-week journey and spend the next eight years trying to figure out how to finish what they started...a reminder that sometimes art (and life) is as much about the process of creation as it is about the

Triumph of the Wall is a film about expectations, about two guys who embark on an eight-week journey and spend the next eight years trying to figure out how to finish what they started...a reminder that sometimes art (and life) is as much about the process of creation as it is about the finished product. [First Run Features]

…

Collapse
Director:

Bill Stone

Genre(s):

Comedy

,

Documentary

Rating:

Not Rated

Runtime:

102 min
Attempting to be a meditation on the nature of creative passion and the emotionally liberating effects of physical labor, Triumph of the Wall is as much of an exercise in frustration for the viewer as for its hapless protagonist.

Triumph of the Wall is often painfully boring and rather shapeless, not so much a crafted film as a compendium of one guy's musings. Regardless, in an era when seemingly every documentary is tied to a hot-button issue, making one about a guy building a wall is endearing.

Neither the very relaxed pace of this builder, Chris Overing, nor Mr. Stone's sporadically amusing neuroses about his filmmaking make for a gripping documentary.