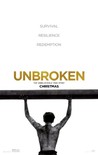 Director:

Angelina Jolie

Genre(s):

Action

,

Biography

,

Drama

,

History

,

Sport

,

War

Rating:

PG-13

Runtime:

137 min
When you get through it, though, you can't help but feel uplifted by this tough-skinned movie that can stand with the best muscular wartime dramas in the American movie canon.

Jack O'Connell's, wiry, indefatigable Zamperini holds your attention without effort.

It is a harrowing journey, and an inspirational one. But, as director, Jolie takes far too long to tell it, particularly in such a conventional manner.

The film's chief misstep is taking its title too literally, and ultimately depicting Louie as an indestructible, and thus largely inhuman, superhero.

Lavish and sporadically powerful, Jolie's POW biopic may have just enough gravity to entice the Academy, but struggles to bring truth to an unbelievable truth.

Unbroken, is a cinematic scrapbook, a collection of well-composed scenes practically cut and pasted from "Memphis Belle," "Chariots of Fire," "Life of Pi" and "The Bridge on the River Kwai." Unlike those other films, though, Angelina Jolie's second effort as a director is more a series of similar events than a story, and lacks an underlying message except that torture hurts.

Unbroken is a grueling endurance test - for the audience just as much as for its cutout champion.
It's handsomely mounted, well-cast, it looks so great . and it certainly conveys a true story worth telling. cinematographer Roger Deakins is

It's handsomely mounted, well-cast, it looks so great . and it certainly conveys a true story worth telling. cinematographer Roger Deakins is exellent.

…

Expand

I have to admit, no matter what movie Angelina Jolie or Brad Pitt star or produce, we will go see it. All of us who like their movies are

I have to admit, no matter what movie Angelina Jolie or Brad Pitt star or produce, we will go see it. All of us who like their movies are helping so many people in need because of Angelina's and Brad's causes. Who better to support? However so far, all of their movies are worth watching because they're inspirational and teach us lessons in humanity. As to "Unbroken," this gives us a hero. Most of us could not withstand what Louis went through. We would love it if there's a "Part Two." This would be about everything else Louis did that was not mentioned in the movie as strongly as his suffering was. That Louis misbehaved a lot, yet achieved redemption. That's another side of the same story. Movies need drama to make them interesting, so I know Angelina focused on what affects people, the drama. But we'd still like to see part 2 even if it doesn't have as much drama. It could almost be a comedy because Louis was quite a character.

…

Expand

The non-fiction novel Unbroken: A World War II Story of Survival, Resilience, and Redemption is an incredibly riveting, moving biography of

The non-fiction novel Unbroken: A World War II Story of Survival, Resilience, and Redemption is an incredibly riveting, moving biography of Olympian and prisoner-of-war Louis Zamperini that I believe is an important book to read. Naturally, a movie based on the book was inevitable; the film adaptation does do its subject justice, even if it's only sporadically compelling. Unbroken is a bio-pic about the life of Louie Zamperini in World War II, whose bomber plane was shot down, and he was forced to survive on a raft for 47 days. He was then captured by the Japanese and placed in various camps for over two years, where he was severely abused until he was rescued at the end of the war. There are a lot of great things about Unbroken: the spectacular cinematography, breakout performances from the entire cast, an explosive opening act and some genuinely moving scenes throughout the rest of the film. Angelina Jolie directs the film in a surprisingly graceful way. Despite some obviously unpleasant war scenes present in the film, Unbroken is a beautiful movie to look at. An opportunity that the film misses, however, is the effects of the war on Louie. His battle with alcoholism and PTSD is never mentioned in the film, and although it would have made the movie longer than it already is (137 minutes), there should have been an emphasis on those ideas. Even if it doesn't resonate as strongly as it should, Unbroken is compelling enough to do justice to its subject matter and a must-watch if yo're a fan of World War II movies.

…

Expand

I'm giving it a 6 out of respect for the gentleman the story was written about. I personally became bored with it half way through. It has

I'm giving it a 6 out of respect for the gentleman the story was written about. I personally became bored with it half way through. It has it's moments but not enough of them to satisfy my taste

…

Expand

An ambitious but nevertheless overlong effort that frequently (and unfortunately) resorts to cliche, formula and the safe route in favor of

An ambitious but nevertheless overlong effort that frequently (and unfortunately) resorts to cliche, formula and the safe route in favor of taking chances that would have served the picture better. While I certainly don't expect a lot from director Angelina Jolie, I definitely expect something more inventive from the screenwriting Coen Brothers, who seem to have turned uncharacteristically timid here. Louie Zamperini's story is indeed an inspiring tale, one that deserved better treatment than it received here.

…

Expand

This review contains spoilers, click expand to view. Read the book, the movie doesn't do it justice.
For a chronicle of a war, the movie skips over some of the book, and also highlights some rather small points (or gives the audience an appearance of a highlight).
Anyway, it already seemed difficult to get through the book in one sitting (as there are three/four distinct parts), but a movie seemed to try and blend these parts together (namely the path to the Olympics and air combat). This seemed a bit forced, but I guess you have to make compromises when making a movie.
In summary, worth a rent (if you like WWII / biography). I would see Interstellar (if its still in theaters) or the Hobbit if you looking to go to the theater. Sad really, I was looking forward to this movie, but left the theater disappointed.

…

Expand

This is a terrible movie. The plot is roughly divided in two parts: the first third of the story is about Zamperini surviving a plane crash

This is a terrible movie. The plot is roughly divided in two parts: the first third of the story is about Zamperini surviving a plane crash and the remaining two thirds are extremely repetitive scenes of him suffering at the end of a sadistic Japanese camp warden. Both parts seem to drag on forever, the part in the prison camp being particularly bad and nothing more than the same scene played differently time and again. In the end, the movie is in itself a torture inflicted to the viewer by an over hyped, mediocre director.

…

Expand