Release Date:

May 6, 2011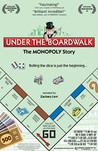 Summary:

Under the Boardwalk focuses on the MONOPOLY national and world championships that are held around the world every four years. Leading up to the exciting coronation of a new champion at the most recent World Championship in Las Vegas, the filmmakers follow some of the most colorful players in

Under the Boardwalk focuses on the MONOPOLY national and world championships that are held around the world every four years. Leading up to the exciting coronation of a new champion at the most recent World Championship in Las Vegas, the filmmakers follow some of the most colorful players in the game. (Tostie Productions)

…

Expand
Director:

Kevin Tostado

Genre(s):

History

,

Sport

,

Documentary

Rating:

G

Runtime:

88 min
Under the Boardwalk provides an amiable overview of one very famous board game's history and impact, alongside a moderately engaging portrait of players preparing for the 2009 World Monopoly Championship.

The film bounces around enjoyably, giving a history of the game, talking to people who love it and chronicling the 2009 Monopoly World Championships in Las Vegas.

An unapologetic love letter to the popular board game. It's also almost - but not quite - something more.

Among the alleged virtues of the game cited by the doc's subjects are its ability to bring people together, its usefulness as a tool to indoctrinate (er, teach) children, and its building of a global culture.
"All signs point to GO!" -- Alison Gang, San Diego Union-Tribune. For over 75 years, MONOPOLY has captivated families on countless occasions

"All signs point to GO!" -- Alison Gang, San Diego Union-Tribune. For over 75 years, MONOPOLY has captivated families on countless occasions and created millions of memories. This documentary examines what has made the classic board game into a worldwide cultural phenomenon, and follows the colorful players who compete for the title of MONOPOLY World Champion. This film is narrated by Zachary Levi, star of "Chuck" on NBC.

…

Expand

This film should appeal to everyone. For history buffs, the largely unknown amazing early history of Monopoly is uncovered. For gamer types,

This film should appeal to everyone. For history buffs, the largely unknown amazing early history of Monopoly is uncovered. For gamer types, the latest round of national championships around the world and the World Championship in Las Vegas add the right amount of suspense. For pop culturists, the game's many icons and famous sayings are surveyed through great movie and tv show clips. And for those wanting to win when they play Monopoly, the included strategy tips are sure to help. Seems like great fun for everyone!

…

Expand

Like most people, I played this game as a kid, but lost interest as an adult because the games take forever to finish. After seeing this

Like most people, I played this game as a kid, but lost interest as an adult because the games take forever to finish. After seeing this movie, and finding out that if you play the game by the rules it only takes about 90 minutes to finish a game, I can't wait to play! Monopoly anyone?

…

Expand

Love the history, the trivia about the game, and all the movie and tv show clips! I'm not a big fan of Monopoly, but this movie kept my

Love the history, the trivia about the game, and all the movie and tv show clips! I'm not a big fan of Monopoly, but this movie kept my interest all the way through!

…

Expand