Release Date:

Sep 22, 2000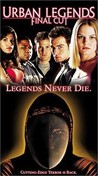 Starring:

Jennifer Morrison

Summary:

Amy (Morrison), Travis (Davis) and Graham (Lawrence) are student filmmakers who would love to make it big in Hollywood. But first they've got to survive their last semester at Alpine University, a renowned film school where the competition is killer...and someone is killing the competition.

Amy (Morrison), Travis (Davis) and Graham (Lawrence) are student filmmakers who would love to make it big in Hollywood. But first they've got to survive their last semester at Alpine University, a renowned film school where the competition is killer...and someone is killing the competition. (Columbia Tristar)

…

Expand
Director:

John Ottman

Genre(s):

Mystery

,

Thriller

,

Horror

Rating:

R

Runtime:

97 min
Please enter your birth date to continue:
You are not allowed to view this material at this time.
You're smarter than this, but occasionally it tricks you into thinking it might be up to something you haven't considered, like an above-average, extra-bloody episode of "Scooby Doo."

You cease to care as they fall back on a catalogue of clichéd shocks, tired camera angles and an ever-mounting gore quotient.

Has promising raw material to burn--and that's pretty much what's been done.

Basically a dressed-up piece of drivel, a self-referential pseudo-thriller with pretensions to pretensions of classic Hollywood suspense.

It's hard not to feel angry that you've spent almost two hours watching this moronic exercise.
One of the scariest movies I've ever seen with a great plot and scarily convincing death scenes!

Close to the worst film I have seen. I agree with most of the critics who rightly say this is rubbish. Only gets a point or two for the

Close to the worst film I have seen. I agree with most of the critics who rightly say this is rubbish. Only gets a point or two for the couple of mildly genuine scares it delivers but really, don't bother wasting your time watching it. Ohh, and other than being really bad it's really boring too!

…

Expand

A Scream clone that was set in Trent University. It's nothing more than a retread of other teen scare movies. Trent University was perhaps

A Scream clone that was set in Trent University. It's nothing more than a retread of other teen scare movies. Trent University was perhaps the most redeemable feature about the movie with its beautiful scenery and modern architecture.

…

Expand

Who decided that EVERY IDIOT gets to produce a movie? It's so GOD AWFUL and cliched!!!!! I wanted to cry and gouge out my own eyes after

Who decided that EVERY IDIOT gets to produce a movie? It's so GOD AWFUL and cliched!!!!! I wanted to cry and gouge out my own eyes after seeing THE WORST piece of crap in the world!!!!!!!!! Forget lethal injection or life imprisonment, make murderers watch this movie!!!!!

…

Expand

Pure Garbage this movie is horrible. Save your time and money and go see another movie. It is so stupid it made me want to gouge my eyes out.

Pure Garbage this movie is horrible. Save your time and money and go see another movie. It is so stupid it made me want to gouge my eyes out. Horrible plot

…

Expand