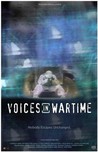 Summary:

This feature-length documentary delves into the experience of war through powerful images and the words of poets -- unknown and world-famous.
Director:

Rick King

Genre(s):

Documentary

Runtime:

74 min
Voices in Wartime is a stirring testament to the search for meaning.

A thoughtful, provocative exploration of the ways poets have dealt with the experience of battle throughout history.

Rick King's stirring documentary Voices in Wartime is not, as you might guess from the title, a compilation of soldiers' battlefield letters to their families back home. This intense little film is about poetry, and not just Homer's "Iliad."

Filled with some of the most powerful poetry and shattering images ever to come out of warfare.

Its pedagogical tone perfectly suits it for viewing in classrooms.