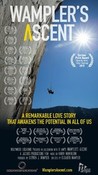 Summary:

Wampler's Ascent documents Steve Wampler as he attempts to become the first person with a disability to climb the biggest rock face in the world, El Captain in Yosemite National Park. 20,000 pull-ups, 5 nights and 6 days on the sheer face of a mountain with only the use of one limb, this is

Wampler's Ascent documents Steve Wampler as he attempts to become the first person with a disability to climb the biggest rock face in the world, El Captain in Yosemite National Park. 20,000 pull-ups, 5 nights and 6 days on the sheer face of a mountain with only the use of one limb, this is a story of a man's commitment to bringing international attention to the funding of a camp for kids with severe disabilities. Wampler's Ascent started out as an adventure movie to bring awareness and funding to a summer camp for kids with disabilities. While that mission was fulfilled, the finished documentary actually takes the viewer deep into a remarkable love story that awakens the potential in all of us.

…

Collapse
Director:

Elizabeth Wampler

and

Stephen Wampler

Genre(s):

Adventure

,

Drama

,

Family

,

Documentary

Rating:

Not Rated

Runtime:

76 min
From cinematographer Corey Rich's beautifully framed footage, Wampler's wife, Elizabeth, making her directorial debut, has assembled a stirring film that's part documentary, and part promotional tool.

There's no denying the inherent emotional power of watching Wampler, aided by two experienced climbers, endure his arduous quest to climb a mountain twice the height of the Empire State Building.

Resolutely sappy and sometimes amateurish, the briskly paced doc remains heartfelt and direct about the same admirable mission Wampler had in making the climb.

It's then, as nature documentary and inspirational device, that Wampler's Ascent finds its power.

Focused on the task at hand and exhausted from the effort, Stephen is often authentically moving, but on the ground, a manufactured awareness that this is all being filmed — along with a treacly score — mars the feel-good atmosphere.
This is one of those movies that inspire you to look at your life and think about how you can really make a difference in this world and

This is one of those movies that inspire you to look at your life and think about how you can really make a difference in this world and overcome your challenges in life. So inspirational on so many levels.

…

Expand