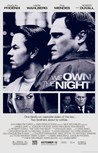 Starring:

Eva Mendes

,

Joaquin Phoenix

,

Mark Wahlberg

Summary:

Bobby Green has turned his back on the family business. The popular manager of El Caribe, the legendary Russian-owned nightclub in Brooklyn's Brighton Beach, he has changed his last name and concealed his connection to a long line of distinguished New York cops. For Bobby, every night is a

Bobby Green has turned his back on the family business. The popular manager of El Caribe, the legendary Russian-owned nightclub in Brooklyn's Brighton Beach, he has changed his last name and concealed his connection to a long line of distinguished New York cops. For Bobby, every night is a party; he greets friends and customers or dances with his beautiful Puerto Rican girlfriend, Amada, in a haze of cigarette smoke and disco music. But it's 1988, and New York City's drug trade is escalating. Bobby tries to keep a friendly distance from the Russian gangster who is operating out of the nightclub--a gangster who is being targeted by his brother, Joseph, an up-and-coming NYPD officer, as well as his father, Burt, the legendary deputy chief of police. (Columbia Pictures)

…

Expand
Director:

James Gray

Genre(s):

Drama

,

Thriller

,

Crime

Rating:

R

Runtime:

117 min
Please enter your birth date to continue:
You are not allowed to view this material at this time.
It's awfully difficult at this point in film history to come up with a car chase that's startlingly new, but Gray pulls it off. It's the best of its kind since "The French Connection."

Whatever the case, We Own The Night plays like a masterpiece because it skillfully appropriates actual masterpieces, not because it earns the label on its own merits.

With a cast like this, one has a right to expect something amazing, so the fact that We Own the Night is merely "entertaining" might cause disappointment in some quarters.

Phoenix gives a nice performance as a man caught between loyalties but blind to the realities all around him, but Gray's screenplay is filled with clunky, Dr. Phil-sounding aphorisms that stop the movie cold.

It's a bare-knuckled crime drama set in 1988 that stylistically could have been made that year and emphasizes Gray's strengths as a director while drawing attention to his limitations as a writer.

The problem with We Own the Night is that it mistakes sentiment for profundity, and takes its ideas about character and fate more seriously than it takes its characters and their particular fates. "I feel light as a feather," Bobby says in a crucial scene, at which point the movie starts to sink like a stone.

Falls into the category of the contrived and forgettable cop drama.
It is difficult to see a movie this great and made so recently get so little love on the internet. James Gray is a superb filmmaker, though I

It is difficult to see a movie this great and made so recently get so little love on the internet. James Gray is a superb filmmaker, though I don't really like, at all, his "Two Lovers", also with Joaquin. Anyway, he and the whole crew of Night don't deserve less than the highest plaudits.

I don't feel that I can carry the only positive user review on metacritic. At this writing only one other person has bothered to write a review with the dismal score of a 4/10. I haven't got the words because I am utterly bummed. Easily this could have been in the running for the Academy Awards had the critics made it their darling. This is proof that when they don't want you to like something, you--not me--won't like it. If they want you to love it, you'll love it. I have to wonder how they got pissed off, were they not invited to an advanced viewing? I wanted to see a whole row of 100's, but the top score is an 83!

To humor you, I liked this movie more than Cronenberg's Eastern Promises, also a Perfect Ten to me, also out in 2007. There is cop/crime/russians in Night and Promises both, and a familial connection as far as crime fathers are concerned and loyalty to them; but Night is far more personal and human with a literal blood family carrying the majority of the drama. If you like Promises you'll see that there are plenty of differences between the two films, and the similarities are only skin deep, so no slurs should be made about either one being the copy of the other. Also see the less similar but not less superb End of Watch.

…

Expand

Anyone who did'nt love this movie doesn't know what a good movie is. It is one of the most emotionally moving films i have seen i n

Anyone who did'nt love this movie doesn't know what a good movie is. It is one of the most emotionally moving films i have seen i n a long time. Stellar performances by the whole cast, ignore these guys, go see it now.

…

Expand

Um filme recheado de brilhantes atuações Joaquin Phoenix,Robert Duvall,Eva Mendes e Mark Wahlberg.
Um super filme,a ovelha negra da famíliaUm filme recheado de brilhantes atuações Joaquin Phoenix,Robert Duvall,Eva Mendes e Mark Wahlberg.
Um super filme,a ovelha negra da família (Joaquin Phoenix) se coloca nos eixos entra para polícia depois que seu irmão é quase morto por aqueles que eram seus amigos.
Agora junto com o irmão (Mark Wahlberg) e o pai (Robert Duvall) ambos da polícia combatem traficantes que enfestam a Nova York dos anos 80.

…

Expand

Great movie. But it leaves you wanting more. Great acting by a great cast. Some really intense scenes, but the ending was just "okay" for me.

Imagine, a story about two brothers on opposite sides of the law..like that hasn't been done a million times before! Besides it's

Imagine, a story about two brothers on opposite sides of the law..like that hasn't been done a million times before! Besides it's lack of originality, it has a negativity that leaves the viewer with a foul taste. It has one great car chase, the rest is predictable and slow moving. The characters are poorly developed. It is well produced however, and the actors do indeed try.

…

Expand

This movie was beyond boring! The really good cast tried really hard to make it work, but the movie just didn't present them with any

This movie was beyond boring! The really good cast tried really hard to make it work, but the movie just didn't present them with any gripping scenes. Joaquin Phoenix never makes the audience really feel like he's progressed, only that he's possibly going through the motions of being coked-up. And Avoid this one at all costs..

…

Expand

We Own the Night is a movie about how Martin Scorseses still does, don't expect a crime/drama, this is more of an action/adventure, wow

We Own the Night is a movie about how Martin Scorseses still does, don't expect a crime/drama, this is more of an action/adventure, wow was I sure wrong. Mark Walhberg is the most failing actor recorded in by book, his character is boring, and Joaquin Phoenix, did he ever copy leo in the departed. A total waste, the dumbest film of the year, James Gray wrote a story about the war upon night, and many clubs and characters. Sound like prohibition, but guess what, we don't have prohibition any more, it hasn't happened.

…

Expand