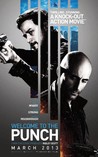 Director:

Eran Creevy

Genre(s):

Action

,

Adventure

,

Thriller

,

Crime

Rating:

Not Rated

Runtime:

99 min
Please enter your birth date to continue:
You are not allowed to view this material at this time.
For most of the run-time, Welcome To The Punch is thrillingly cinematic, beautifully made, smarter and funnier than you'd expect, and a phenomenal showcase for Creevy and his team.

Writer-director Eran Creevy demonstrates little facility for kineticism — one of the movie's best scenes gets flat-out ruined when he abruptly shifts to hackneyed slo-mo — and his cynical plot gets so convoluted that one of the bad guys has to break it down for the audience in a climactic monologue-at-gunpoint.

There are good movies and plenty more bad ones and many, many more that fall somewhere in between. And then there are enjoyable absurdities like Welcome to the Punch, which contain evaluative multitudes and which, scene by scene, register as not bad, pretty good and flat-out ridiculous.

Despite its fast pacing and well-staged action set-pieces, the film fails to make much of an impression.

When bullets aren't flying, the movie offers yesterday's goods in shiny new packaging.

It runs out of steam, with plot revelations visible from a mile away and a bit of a plausibility gap.

Unfortunately, the rest of writer-director Eran Creevy's film just shows that the Brits, too, make good-looking but empty thrillers, just like in Hollywood.
I've watched it before, and it is as awesome as I don't know what. You see, when they did the casting for this film, I knew the found the

I've watched it before, and it is as awesome as I don't know what. You see, when they did the casting for this film, I knew the found the perfect choice for the lead role in James McAvoy.

…

Expand

Welcome to the Punch is a crowd-pleaser with a minimalistic attitude.

Watch this movie hereWelcome to the Punch is a crowd-pleaser with a minimalistic attitude.

Watch this movie here http://www.watchfree.to/watch-29ca81-Welcome-to-the-Punch-movie-online-free-putlocker.html

…

Expand

A good British action film is hard to come by, one that emulates and builds on old school action directors like John Woo and John McTiernan is

A good British action film is hard to come by, one that emulates and builds on old school action directors like John Woo and John McTiernan is even harder. Welcome to the Punch is that film and because of that it is delightful. The film follows the events that happen when lifelong criminal Jacob Sternwood (Mark Strong) returns to Britain to investigate why his son has been attacked. While there he must contend with disenfranchised police officer Max Lewinsky (James McAvoy), someone Sternwood wounded years prior following one of his final heists. Welcome to the Punch isn't the most intelligent action thriller, in fact it can play quite predictable for a majority of its run time. It's not a film that tries to shock but it does try to impress in its writing (mostly successfully) and its performances (entirely successful), but most importantly the direction by Eran Creevy. The action in the film is sublime with an empty nightclub shootout being one of the finest gunfights since heat. The attention to detail is wonderful which adds a sense of realism to the action. Although John Woo Slow-Mo is used it never really feels out of place and gives the film a Max Payne Noir feel (the game not the film, never the film). Then again the film isn't all action, it's firmly placed in the thriller category as well as the film has an excellent sense of pace allowing for emotional moments as well as some very fast paced developments. It's a film that constantly shifts gears and because of that it is never boring and overall it manages to fit in enough great action moments to be a great movie.

…

Expand

The movie overall is successful, as McAvoy and Strong bring seriousness to their characters with strong facial features and gritty

The movie overall is successful, as McAvoy and Strong bring seriousness to their characters with strong facial features and gritty personalities. The film, plot wise, was predictable and underdeveloped. Despite those aspects, the film was a success because of the two great actors, amazingly vivid colors and scenery and gun fights.
The film runs for 99 minutes, which is not long for most movies, but I feel this movie is a few minutes too long, filled with slow, drawn-out, unnecessary scenes that were aimed at contrasting the fast and quick shooting scenes. Also the film is lacking rich or witty dialogue, it is all but nonexistent.
Regardless, the actions scenes are colorful and blood pumping, which is the film's true strength that ultimately justifies watching it. The movie also stars Andrea Riseborough (Oblivion), David Morrissey (The Walking Dead), Jason Flemying (Snatch), and Peter Mullan (War Horse). The film, as you have read, includes many talented and known actors/actress.
Welcome To The Punch is about Max (McAvoy), a headstrong and tough London Cop who has been chasing a infamous criminal Jacob Sternwood (Strong), later to realize there is more going on in the world than Sternwood. I won't spoil the film for anyone.
This flick is good for a rainy day or a weekend movie night. But don't rent it and expect an In Bruges, Seven Psychopaths or Lock, Stock and Two Smoking Barrels type of film. Welcome To The Punch is a good film, but slightly predictable and could use more interesting dialogue. Go into this flick to see some great scenery and fun gun fights, but that is all that can be promised. The old school Die Hard british version

…

Expand

"Welcome to the Punch" 10 Scale Rating: 5.5 (Mediocre) ...

The Good: Great performances from McAvoy, Strong, and Harris. Some of their"Welcome to the Punch" 10 Scale Rating: 5.5 (Mediocre) ...

The Good: Great performances from McAvoy, Strong, and Harris. Some of their scenes are just flat out awesome and carry the film. The beginning was well done and grabs your interest right off the bat.

The Bad: Sadly, it struggles to keep your interest and becomes a pretty straight forward crime drama. Runs 1:39 but feels much longer as it slows down quite a bit in the middle and towards the end. The ending wasn't very satisfying.

…

Expand

The one BIG thing i like about this film is i got to see it before it was in the cinema and that i got to meet the director he was a good

The one BIG thing i like about this film is i got to see it before it was in the cinema and that i got to meet the director he was a good laugh(i know this is not a good reasons for me to like the movie so that's why i'm not using it to add my ratings up) Right Welcome to the Punch i did enjoy this film but i'm still kind of mixed with it, yeah its a good little action it kept me entertained i do like how the bad guy(Jacob Sternwood) in this film isn't as stupid as a sack of bricks and returns to London for no reason what so ever because he is forced to return to London when his son is involved in a heist gone wrong its also great that they show his crime because then it gives you understanding of what hes done, but this is the real big thing i love about the film its the camera shoots and the grading awh lovely! it looks lovely but its kind of annoying that the rest of the film is not that great like the ending for example its like its an american film with they make two people take on an army with no real struggle that is why i cant stand most american films they make the hero like bloody superman because they have no good ideas oh and they spam there flag every where that's some thing that England doesn't do) but yeah i'm still mixed with it but i still think its better then most american actions

…

Expand

This is one of the most generic movie I've seen this year. The entire cast is not only unmemorable, they are unlikable. Damn Brits aren't very

This is one of the most generic movie I've seen this year. The entire cast is not only unmemorable, they are unlikable. Damn Brits aren't very good at making movie....

…

Expand