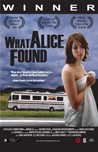 Starring:

Bill Raymond

,

Emily Grace

,

Judith Ivey

Summary:

A penniless young woman (Grace) trying to get from New Hampshire to Florida is recruited by a friendly couple (Ivey, Raymond) traveling in an RV to become part of the seedy underworld of truck stop prostitution.
Director:

A. Dean Bell

Genre(s):

Drama

,

Crime

Rating:

R

Runtime:

96 min
Please enter your birth date to continue:
You are not allowed to view this material at this time.
Scrupulously fair-minded yet deliciously ambiguous, What Alice Found, a triumph of sound psychological and artistic judgment, is an unexpected treat for sophisticated audiences.

In the end, the camper-lot prostitution serves as trapping for a weirdly touching coming-of-age film that leaves its heroine sadder but wiser.

Bell forces us to see characters from the proverbial wrong side of the tracks in a distinctly human light, neither ennobling nor pitying.

Digital video is both the blessing and the curse of writer-director A. Dean Bell's well-conceived but underachieved What Alice Found.

Alice has all the emotional truth of an America's Most Wanted reenactment.