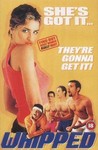 Director:

Peter M. Cohen

Genre(s):

Comedy

,

Romance

Rating:

NC-17

Runtime:

82 min
Please enter your birth date to continue:
You are not allowed to view this material at this time.
Initially amusing but finally sour sex comedy.

Lewd, crude, blessedly brief.

A crass, witless knockoff of better films.

Hang out at a frat house or sports bar, and you can hear this kind of talk for free.

Perhaps there is a more excruciatingly painful and self-abusive way to spend 82 minutes. But I honestly can't think of what it would be.

Its film school aesthetics and sophomoric storytelling are sense-deadening.
The film was mostly preposterous but Linda Udd as Subway Girl was a vision of loveliness for all of her five seconds. If the director knew

The film was mostly preposterous but Linda Udd as Subway Girl was a vision of loveliness for all of her five seconds. If the director knew enough to make a film worth watching he would have seen her radiance and centered the film around her.

…

Expand

this was a very original movie and it DID make me laugh, but there are some things about it that are so cheesey and over the top that it's

this was a very original movie and it DID make me laugh, but there are some things about it that are so cheesey and over the top that it's just ridiculous. it has a lot of style. i liked the direction. but the underdevelopment of Mya is a huge flaw that can't be overlooked. supposedly these 3 guys are all in love with her, yet there's no reason for it, not even exceptional looks. as i type thise, the current user average is 5.9...that's about right.

…

Expand

Good movie... But kinda depressing and sad.... Made me think about how my x is a stupid slut and how she screwed me over!!

While I am a fan of Amanda Peet and her work in other comedies, this movie has poor comedic value. There are very few comical moments and

While I am a fan of Amanda Peet and her work in other comedies, this movie has poor comedic value. There are very few comical moments and they are all saved until the closing credits.

…

Expand

This movie is truly awful. My friend and I sometimes challenge people to sit thru it, "The Whipped Challenge". Odd thing, only at the very end

This movie is truly awful. My friend and I sometimes challenge people to sit thru it, "The Whipped Challenge". Odd thing, only at the very end is there any redemption of what you painfully endured.

…

Expand

If you are thinking of watching Whipped, do yourself a favor and just smash your hand in a car door instead.

The only thing that works in this film is the chemistry among the four main leads. Repulsive and sleazy writing is the replacement of what

The only thing that works in this film is the chemistry among the four main leads. Repulsive and sleazy writing is the replacement of what could of have been an intriguing screw-ball comedy. Every unfunny joke will make the film feel like it is going slower and slower. The characters were not acted very well and were created to be more like gimmicks than actual human beings. Not to mention that the characters are not relatable or likeable at all. The last thing you want as filmmaker is make something hard to sit through, unless that is your goal. If that is your case then Whipped is the perfect blueprint on how to achieve that. Nothing feels natural or realistic about how people act or interact with people in this movie, which makes it hard for the viewer to delve into the lore of what is happening. The film is also very grounded, which kills the possibility of over-the-top fun. Some people can tell you it's funny, but they are probably not able to explain why. The humor in this film is very acquired and 99% of the audience will probably prefer to actually be whipped then watch this.

…

Expand