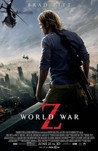 Director:

Marc Forster

Genre(s):

Action

,

Adventure

,

Sci-Fi

,

Drama

,

Thriller

,

Horror

Rating:

PG-13

Runtime:

116 min
Please enter your birth date to continue:
You are not allowed to view this material at this time.
World War Z presents an abundance of relatively plausible action, smart solutions and one useful piece of information: When the zombiepocalypse comes, the undead are flying coach.

World War Z is the most gratifying action spectacle in years, and one reason for its success if the Pitt doesn't play a superhero. [1 July 2013, p.76]

Exciting, truly harrowing and smartly directed apocalyptic thriller from Marc Forster ("Monster's Ball"). It's the scariest zombie movie in many years.

Director Marc Forster is very good at amping up the terror, but after a while, we reach zombie overload and we might as well be watching an infestation of Transformers.

The stakes are high and the excitement's there and the results, as previously stated, are messy but fairly entertaining.

While some of World War Z is rotten, the whole stands as a punchy, if conventional action thriller.

It is no summer thriller. It's an anemic actioner that fosters excitement like dead limbs as it lumbers toward a conclusion.
I love this movie. Kinda like the Walking Dead on steroids. Great acting by Brad and the whole cast. I'm hoping they do a sequel because I

I love this movie. Kinda like the Walking Dead on steroids. Great acting by Brad and the whole cast. I'm hoping they do a sequel because I would like to see where the storyline goes. Seeing as this did not follow the book very closely they have many options where they could take it. I would like to see the characters expanded on a bit and then of course the solution, search for the cure or just the journey to how they got where they are.

…

Expand

This is a must see. Went to see this over the weekend with my mother, and I will admit that I have not read the book, but this was an awesome

This is a must see. Went to see this over the weekend with my mother, and I will admit that I have not read the book, but this was an awesome movie. The 3D isn't great, but does have it's moments. When I look for Zombie movies I like as much realism as is possible, and the way this works on a domestic, and international scale is just that.
There are some saying there were no scares, but that simply isn't true. I jumped once or twice, and my mother (and the people behind me) jumped so many times it was funny. Probably not the greatest movie of the year, but for zombie movies, it's in my top 5.

…

Expand

this was one of the best zombie movie ive ever seen. its like dawn of the dead and left 4 dead mixed together. the story and characters were

this was one of the best zombie movie ive ever seen. its like dawn of the dead and left 4 dead mixed together. the story and characters were good though the ending could have been better and less... happy. the zombies in the movie were fast and unpredictable (Zombie ladder wtf XD) overall great film glad i saw it.

…

Expand

World War Z has a pretty good story, the way the infection starts and how they get rid of the infection. I did not like brad pitt in this

World War Z has a pretty good story, the way the infection starts and how they get rid of the infection. I did not like brad pitt in this movie, during the whole movie he had a look on his face like if he was bored or something.

…

Expand

It has its moments, but they're not enough. The script falls short in places, and it needs more emotion. The film does offer us effective

It has its moments, but they're not enough. The script falls short in places, and it needs more emotion. The film does offer us effective suspense and tension in several scenes, and it will be a good film for zombie fans.

…

Expand

A tad cheesy, and the storyline is completely lacking backstory. Over all it's a good movie but a onetime watcher for sure. It jumped into

A tad cheesy, and the storyline is completely lacking backstory. Over all it's a good movie but a onetime watcher for sure. It jumped into the insanity of the zombie hoard onslaught without explaining anything about the main characters except that he used to be important. I just didn't really connect with the main character and the ending really seemed corny and obvious.

…

Expand

Absolutely nothing like the book. and I mean nothing. Did I mention it is an entirely different franchise? It's like they suckered in people

Absolutely nothing like the book. and I mean nothing. Did I mention it is an entirely different franchise? It's like they suckered in people by buying rights to the name. It is garbage what they did to the story. Skip this in theaters, go read the book instead.

…

Expand