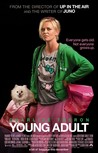 Summary:

Mavis Gary is a writer of teen literature who returns to her small hometown to relive her glory days and attempt to reclaim her happily married high school sweetheart. When returning home proves more difficult than she thought, Mavis forms an unusual bond with a former classmate who hasn't

Mavis Gary is a writer of teen literature who returns to her small hometown to relive her glory days and attempt to reclaim her happily married high school sweetheart. When returning home proves more difficult than she thought, Mavis forms an unusual bond with a former classmate who hasn't quite gotten over high school, either. (Paramount Pictures)



…

Expand
Director:

Jason Reitman

Genre(s):

Drama

,

Comedy

Rating:

R

Runtime:

94 min
Please enter your birth date to continue:
You are not allowed to view this material at this time.
A cockeyed comic triumph that flashes between bright and dark like a strobe light of the spirit. And Ms. Theron, as Mavis Gary, a self-styled author rather than a mere writer, succeeds sensationally at something much harder than playing ravaged.

Reitman lets the pop-culture references (oh hi, 4 Non Blondes' "What's Up") accessorize the story rather than guide it, and in its uncompromising treatment of a character who's troubled but also a stone-cold bitch, Young Adult offers compassion for rather than revenge on the "psycho prom queen" who has nothing left in life but a warped mix-tape from an ex who moved on long ago.

So it makes sense that Young Adult feels at times like a mashup of styles and genres - part curdled rom-com, part psycho-prom-queen flick, with a little "Revenge of the Nerds" thrown in.

Their scenes together are the film's best, with Theron and Oswalt, who have very different tempi and temperatures as performers, parrying and thrusting with great expertise.

Though marketed as a comedy, this film is too creepy and acerbic to be consistently comic.
Young Adult touches so close to home for me, not being able to let go. One can't help but to ponder and contemplate the supposedly glorious

Young Adult touches so close to home for me, not being able to let go. One can't help but to ponder and contemplate the supposedly glorious days of the past and reflect on our past mistakes, on what could've been and what should've been. The opportunity that we're given now in the present is all that matters. The past is in the past, we just have to pick ourselves up, dust ourselves off and get ready for what lies ahead. Our best years are still ahead of us, it's time to look into the future, start a new chapter. Life, here I come.

…

Expand

charlize theron is the reason of me to watching this movie. she is rare beauty in hollywood without make ups or lighting effect. story and

charlize theron is the reason of me to watching this movie. she is rare beauty in hollywood without make ups or lighting effect. story and acting is suprisingly good and even though plot is not lengthy or clever, this movie made me think about what a life is.

…

Expand

I always wondered what happened to that girl from high school. You know the one, her locker was right next to yours for four straight years,

I always wondered what happened to that girl from high school. You know the one, her locker was right next to yours for four straight years, but she never knew your name. She spent more time staring into the pocket mirror attached to the inside of her locker than at any of her classmates. She was homecoming and prom queen, she was socially above the common man, and all she wanted to do was see your small town in her rearview mirror as she escaped to the big city after graduation. Luckily for us, director Jason Reitman and screenwriter Diablo Cody have reconnected (they first worked together on Juno) to let us know exactly what happened to that girl from high school.

Mavis (Charlize Theron) is now 37, lives in Minneapolis, and is a ghostwriter for a young adult series (think Sweet Valley High) whose popularity is in severe decline. She wakes up every morning severely hung over from the night before, ignores her pocket-sized dog, and always has a dating website open on her web browser while she attempts to writer her next chapter just in case she gets a notification of a potential match. In other words, Mavis is not doing very well. An unexpected e-mail shakes her out of her stumbling stupor one morning when a birth announcement arrives from her long ago high school ex-boyfriend Buddy Slade (Patrick Wilson); he is now the father of a brand new baby girl.

Events are now set in motion as Mavis impulsively packs a suitcase, drives a few hours to her old and small hometown, and aims to break up Buddy and his wife Beth (Elizabeth Reaser). With no evidence whatsoever, Mavis just knows Buddy is unhappy in his marriage and longs to be rescued by the one girl he was meant to be with, Mavis. She considers the institution of marriage as a disease, a problem which can be cured through a quick divorce. Mavis also brings her old habits back to town with her; she continues to wake up slobbering drunk every morning, wears revealing clothes which would not only seem out of place in Minneapolis, but downright foreign in small town America, and whether intentionally or just plain out of habit, talks down condescendingly to anyone who never left town the way she did.

While guzzling one of her many double whiskeys at a local dive bar one night, Mavis runs into Matt (Patton Oswalt), a guy who she barely remembers from school. Matt reminds her his locker was right next to hers for four years and through a combination of proximity and drunkenness, Matt becomes Mavis

…

Expand

This review contains spoilers, click expand to view.

There is nothing to like about Charlize Theronâ

…

Expand

It's almost like Charlize Theron woke up morning and thought: "I feel like playing a **** from now on." (YA, Prometheus, SW&H) But, again, she

It's almost like Charlize Theron woke up morning and thought: "I feel like playing a **** from now on." (YA, Prometheus, SW&H) But, again, she gives a really great performance. I personally really liked Young Adult, but like Bad Teacher earlier in the year, this film has sort of a sympathetic message, but the main character deserves anything but sympathy. Regardless, this is a really good film featuring good performances and a witty script from Diablo Cody (Juno).

…

Expand

This is a movie that doesn't know if it wants to be a comedy, a satire, or a dark cautionary tale. The story is weak and even though Charlize

This is a movie that doesn't know if it wants to be a comedy, a satire, or a dark cautionary tale. The story is weak and even though Charlize Theron does a decent job I simply couldn't buy in. Is anyone seriously expecting me to believe that anyone who gets drunk every night to the point of passing out and survives on a diet of junk food looks like Charlize Theron by the age of 37? Please! Too much product placement too: three shots of Charlize drinking Coke (logo facing the camera of course), how much did they pay for that?

…

Expand

There are no redeeming elements to this story whatsoever. The story tries to find some aspect of heartfelt emotion only to display awkward

There are no redeeming elements to this story whatsoever. The story tries to find some aspect of heartfelt emotion only to display awkward unbelievable moment after moment. With incomprehensible situations that leave the viewer cringing. By the climax you are holding on with a last thread of investment for some type of redemption for this waste of time only to be utterly disappointed.

…

Expand