Network:

HBO

Series Premiere Date:

Jun 30, 2014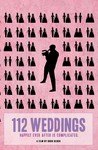 Summary:

The documentary contains footage of weddings director Doug Block filmed over the past two decades with follow-up interviews with the couples about marriage.

Genre(s):

Movie/Mini-Series

,

News/Documentary

,

Documentary
Show Type:

TV Movie

Season 1 premiere date:

Jun 30, 2014
A mix of joyous wedding day flashbacks and sometimes painful present-day interviews results in a compelling narrative that should be required viewing for anyone about to walk down the aisle.

He has a light touch, and his camera's gaze is warm and kind. This movie is knowing, and sometimes ruefully ironic, without ever seeming smug.

Result is more a series of entertaining parts than a substantial whole. But it's smoothly assembled, with a solid tech package and lively pace.

An entertaining, wistful, happy-sad film that feels shorter than its 95 minutes.

Even if it lacks depth, Block's big-screen banquet of matrimonial testimonials is still a highly engaging proposition.

Every marriage remains a bit of a mystery, sometimes even to the people within it, and there's more than a voyeuristic satisfaction in seeing people talk about what they've learned in the years since they first said "I do."