Network:

CBS

Series Premiere Date:

Sep 19, 2011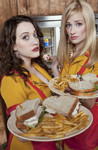 Starring:

Matthew Moy

,

Kat Dennings

,

Garrett Morris

Summary:

Caroline (Beth Behrs) is forced to find a job after her trust fund is emptied and she ends up at the Williamsburg Diner, where she meets veteran server Max (Kat Dennings).

Genre(s):

Comedy
Please enter your birth date to continue:
You are not allowed to view this material at this time.
The girls' chemistry should keep the show breakdown free. [19 Sep 2011, p.59]

After the forced opening minutes, it's the best multi-cam-com of the season.

Max and Caroline's Odd Couple interaction is nothing you haven't seen before. But thanks to the show's two bright young stars, who deliver their shared dialogue with a nice, natural ease, their scenes together have enough charm and humor to make these struggling Girls look like winners.

Depending on your tolerance for edgy humor, 2 Broke Girls ain't broke, but a greater effort by the show's writers to be funny without being overly crude/cruel would help fix it for a broader audience.

It could be that, like a lot of sitcom pilots, Broke Girls is trying too hard. But when the jokes work, they're funny, so there's hope.

For sitcom's premise sake, Kat reluctantly offers Caroline a place to stay, and before you know it we're watching a lukewarm revamp of "The Odd Couple."

The pilot begins promisingly with Max unfurling an Aaron Sorkin-like rant at a customer foolish enough to snap his fingers to get her attention. But after that there are too many one-liners about semen stains and orgasms that aren't clever, just pronounced very loudly to carry over the titters of a studio audience.
The T.V. show is rough and it is sometimes a little perv, but it makes me laugh, indeed, it is ironic, funny, hilarious, but it fails in the

The T.V. show is rough and it is sometimes a little perv, but it makes me laugh, indeed, it is ironic, funny, hilarious, but it fails in the lines. It makes you curious.

…

Expand

i loove this show. it somehow shows me what friendships, relationships are. and also the real deal about business, and lame economies. Kat and

i loove this show. it somehow shows me what friendships, relationships are. and also the real deal about business, and lame economies. Kat and Beth really rocks it. i dont care you people who dont understand jokes. i love this show. salute

…

Expand

Automatically liked this show, Max and Caroline are a perfect antagonistic friendship and both are superb in their roles, the rich spoiled

Automatically liked this show, Max and Caroline are a perfect antagonistic friendship and both are superb in their roles, the rich spoiled girl and the tough rude poor girl, without stop being smart. It fits great the kind of Max's boyfriend and especially Caroline's horse!

…

Expand

Going for every obvious joke in the book, the first season of Two Broke Girls provides light entertainment, but nothing more. Two charismatic

Going for every obvious joke in the book, the first season of Two Broke Girls provides light entertainment, but nothing more. Two charismatic lead actresses are the main advantage of an otherwise mediocre show which cannot hope to match established comedies like How I Met Your Mother or The Big Bang Theory, and even if it closely trumps Two And A Half Men, it is far from being a must-see show.

…

Expand

Just like New girl, I was expecting this to be good but it really isn't. It takes the "tell 100s of 'jokes' and hope some of them are

Just like New girl, I was expecting this to be good but it really isn't. It takes the "tell 100s of 'jokes' and hope some of them are actually funny" approach but too few of them are, and the laugh track is over the top. Its all just too forced. None of the characters are good, and its treatment of the Chinese guy is so close to actual racism I'm surprised the actor didn't throw down the script and leave.

…

Expand

I can't believe this show is a massive hit. Figures, the idiots of America watch mindless crap like 2.5 Men, America Idol, and Dancing with

I can't believe this show is a massive hit. Figures, the idiots of America watch mindless crap like 2.5 Men, America Idol, and Dancing with the Stars. The girls are not that bad to look at but they are very annoying characters. The jokes are terrible. The sexual innuendos are not at all funny and so unoriginal----I heard all these jokes in high school. Example: Girl 1: "I need a good 9 hours of sleep." Girl 2: "It looks like you need a good 9 incher." Seriously, WTF! The show is filled with these types of horrible innuendos, racist remarks (particularly at the expense of Asians), and unfunny jokes about hipsters.

…

Expand

2 Broke Girls is an incredibly bad sitcom. Honestly, it is surprising, even upsetting, that this show has survived this long with such great

2 Broke Girls is an incredibly bad sitcom. Honestly, it is surprising, even upsetting, that this show has survived this long with such great publicity when so many other good sitcoms get cancelled so quickly. Nothing about this show is good, or even decent. The actors are terrible at delivering jokes, but the writing is so bad it would not make much of a difference if they were good. Worse still, the two characters on the show that are the center of the entire series are the worst written and the most horribly acted. The only positive note I can add is that so many other people agree with me, it reaffirms my faith in the taste of the general public.

…

Expand