Network:

FOX

Series Premiere Date:

May 5, 2014

Season #:

9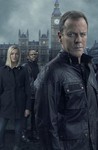 Summary:

Picking up four years since the events of season eight, Jack Bauer (Kiefer Sutherland) is still on run and ends up in London trying to prevent another threat in this 12-episode season.

Genre(s):

Drama

,

Action & Adventure

,

Suspense
Show Type:

Mini-Series

Season 9 premiere date:

May 5, 2014

Episode Length:

60

Air Time:

09:00 PM
The good news is the limited series is just as entertaining.

No matter what, the show returns with the same sense of modern-day paranoia and urgency that fueled its best seasons, and however over-the-top it goes, its real-world geopolitical concerns are real-world geopolitical concerns.

The show will skip hours here and there, but the "24" clock will continue to run, and if the first two hours are any indication, the time away has been good for the franchise.

The revived 24 is still instantly involving and packed with a dizzying rush of suspenseful crescendos. The new Jack, meanwhile, is the same as the old Jack, which is to say he flips the bird in the face of terror and squirms his way out of major messes like a gun-toting Houdini--all while managing to make a man purse look good.

There are promising signs of life in the first two hours of the new series, which take place between 11 a.m. and 1 p.m. in London.

[Director] Cassar juggles plenty of balls in that first hour, uses some new techniques at his disposal and gives Rajskub her best scenes yet. But there's something very retro about the formula--something that doesn't quite seem ready for revival.

As long as all you ask of it is more familiar twists and backstabbing, you'll probably be happy with it. If you felt (like I did) that the series had said all it had to say after eight years, the reboot looks skippable.
I forgot how good 24 was! It is like it has been always there. While I was watching it today, I felt the same way as I did when I watched the

I forgot how good 24 was! It is like it has been always there. While I was watching it today, I felt the same way as I did when I watched the first season. I was very impressed with the concept, the storytelling and how addicted the TV show was. I think 24 proves that others TV shows could come back on a high note as well. I hope they do the same with Dexter, they owe us the last season.

…

Expand

The great thing about this show is that Jack doesn't put up with any crap from anyone. This season, there was less action than in past seasons

The great thing about this show is that Jack doesn't put up with any crap from anyone. This season, there was less action than in past seasons but it was still very good and I sure hope another season comes back with him escaping from Russia and creating some havoc again. So glad the character of his former love interest (President's daughter) did not make it through this season. I never liked that actress as his love interest. But the new female Jack character was excellent. A great balance. Hope the next season returns soon!

…

Expand

As the original, it just gets better and better (and more addictive) with each episode. We're not TV nuts, but this show has us totally

As the original, it just gets better and better (and more addictive) with each episode. We're not TV nuts, but this show has us totally hooked.

Now, if they only would bring back Tony.....c'mon...they could think of a great excuse for why he's really still alive!

…

Expand

This is amazing, i still can´t believe this two espisodes, only think that im sure is that jackisback and we see nothing yet. Kiefer and

This is amazing, i still can´t believe this two espisodes, only think that im sure is that jackisback and we see nothing yet. Kiefer and Yvonne are very similar in the choices that they made, i like that, is like a female jack

…

Expand

This review contains spoilers, click expand to view. I was really excited when 24 was making a return. The series has been one of my favorite

This review contains spoilers, click expand to view. I was really excited when 24 was making a return. The series has been one of my favorite TV shows ever. This season was set in London, a welcome surprise. The season actually started a little slow and it was really nothing special. It was rather predictable and a lot more realistic. As a series, 24 doesn't care for a sense of realism. It wasn't crazy and that was a little disappointing. In 24, we want craziness to occur all the time. Jack Bauer continues to kick ass like he has always done. The season brought another good character, Kate Morgan. She's basically the female Jack Bauer. It was nice seeing James Heller again. One again, I really did not care for Audrey. We all knew she would die in this season. It just had to happen. The season had a pretty good villain, but she was not intimidating. She was just crazy. I was so happy sheshe got thrown out the window. This season didn't have as many twists and turns like prior seasons. Cheng returns at the end, but we all knew he was coming back. I wish Tony would come back, that would have been better. James Heller had one of the best dialogues ever in 24 in the finale. At the end, the Russians get Jack after he gives himself up. A nice ending to the season. I do think the show will get renewed and get another season.

…

Expand

After a four year absence 24 is back and nothing much has really changed. Many of the issues that affected later seasons in particular (from

After a four year absence 24 is back and nothing much has really changed. Many of the issues that affected later seasons in particular (from moles inside the government to people putting their personal issues ahead of anything else) are still to be found here, even if they are mitigated slightly by the fact that this season has twelve, rather than the usual twenty-four episodes.

After a slowish start however Live Another Day really hits top gear and makes for fantastically exciting viewing with all the gun fights, car chases, plot twists and cliff-hangers fans have come to expect. The show may not be as ground breaking as it once was but it great to have Jack back on our screens.

…

Expand

When 24 started back in the early 90's it was fresh original and well made, slowly as the seasons progressed the shows quality regressed,

When 24 started back in the early 90's it was fresh original and well made, slowly as the seasons progressed the shows quality regressed, finally it ended, after 8 uneven seasons I no longer had force myself to watch this once great show out of some sort of misguided loyalty.

For some reason(clearly to milk the cash cow) they brought it back, I wonder if it will reinvent itself I thought, hoping it would get back to some sort of quality TV, Boy was I wrong, 24 - Live Another Day is one of the worst written TV series I have ever seen, Terrible doesn't even begin to describe how bad it is.

If you loved the early seasons of 24, then noticed the drastic decline in quality, I would say avoid this tripe, but hey, make your own kind of music.

…

Expand