Network:

FOX

Series Premiere Date:

May 5, 2014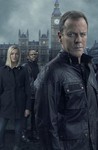 Starring:

William Devane

,

Tate Donovan

,

Benjamin Bratt

Summary:

Picking up four years since the events of season eight, Jack Bauer (Kiefer Sutherland) is still on run and ends up in London trying to prevent another threat in this 12-episode season.

Genre(s):

Drama

,

Action & Adventure

,

Suspense
The good news is the limited series is just as entertaining.

No matter what, the show returns with the same sense of modern-day paranoia and urgency that fueled its best seasons, and however over-the-top it goes, its real-world geopolitical concerns are real-world geopolitical concerns.

Going by the first two hours, this new incarnation of the show exactly as 24-ish as you'd want it to be.

The revived 24 is still instantly involving and packed with a dizzying rush of suspenseful crescendos. The new Jack, meanwhile, is the same as the old Jack, which is to say he flips the bird in the face of terror and squirms his way out of major messes like a gun-toting Houdini--all while managing to make a man purse look good.

The novelty--and thus, a bit of the edge--is gone as Fox's 12-part 24: Live Another Day seeks to prove that less is more, slowly revving up the comfortably formulaic engine while visceral split-screen editing once again intensifies the literally explosive twists. And yet, because a sad, mad, badass Jack Bauer is the only Jack we've ever known, there's something grimly satisfying when he mutters bleakly to one of his few allies, "I don't have any friends."

[Director] Cassar juggles plenty of balls in that first hour, uses some new techniques at his disposal and gives Rajskub her best scenes yet. But there's something very retro about the formula--something that doesn't quite seem ready for revival.

As long as all you ask of it is more familiar twists and backstabbing, you'll probably be happy with it. If you felt (like I did) that the series had said all it had to say after eight years, the reboot looks skippable.
A great start to the new series of 24. It's exciting, it's pulsating & it has an interwoven storyline which is stellar. I can't wait to see

A great start to the new series of 24. It's exciting, it's pulsating & it has an interwoven storyline which is stellar. I can't wait to see the rest of this series & the reduction in episodes by 12 will allow for a more fast-paced, structured viewing. Great job.

…

Expand

i have to say that this season isnt that good and epic as the previous seasons, something is missing, but i had to rate it 10stars because of

i have to say that this season isnt that good and epic as the previous seasons, something is missing, but i had to rate it 10stars because of 2 things, 24 still one of the best shows in the air and second i really want to give the cast some motivation to keep it on because i really want to keep watching 24 for years to come(sorry my english im portuguese)

…

Expand

Kiefer is on top top form. The writers are on top form. Loving what they are doing with chloe's character, she is actually my favourite. The

Kiefer is on top top form. The writers are on top form. Loving what they are doing with chloe's character, she is actually my favourite. The new blond girl from Dexter is proving to be a welcomed addition to the 24 team. I love the London scenes, being from london its a great honour to watch my hero's bouncing around the city. Its exciting, its action packed, the storey twists so nice, its perfect it really is. My life is complete with a bit of 24 slapped on the top. Wohooo!!!!!!

…

Expand

The first two episodes were really strong. The side characters are all interesting. Just when you think that 24 is going to fall into one of

The first two episodes were really strong. The side characters are all interesting. Just when you think that 24 is going to fall into one of its old tropes, it does not. Hopefully, that is the case for the rest of the season.

…

Expand

I've loved all the 24 series. It's a top 5 TV Show ever made and the Jack Bauer character is so perfect in every flawed way. This season's

I've loved all the 24 series. It's a top 5 TV Show ever made and the Jack Bauer character is so perfect in every flawed way. This season's storylines and plot twists are great. The only downsize is the lack of more over-the-top violence or torture, as I've become accustomed to. Also, Jack never really getting shot/hurt/injured is a disappointment with 1,000+ bullets having been shot at him at least. Either way, an absolute gem and a must watch. More seasons please!!

…

Expand

After a four year absence 24 is back and nothing much has really changed. Many of the issues that affected later seasons in particular (from

After a four year absence 24 is back and nothing much has really changed. Many of the issues that affected later seasons in particular (from moles inside the government to people putting their personal issues ahead of anything else) are still to be found here, even if they are mitigated slightly by the fact that this season has twelve, rather than the usual twenty-four episodes.

After a slowish start however Live Another Day really hits top gear and makes for fantastically exciting viewing with all the gun fights, car chases, plot twists and cliff-hangers fans have come to expect. The show may not be as ground breaking as it once was but it great to have Jack back on our screens.

…

Expand

When 24 started back in the early 90's it was fresh original and well made, slowly as the seasons progressed the shows quality regressed,

When 24 started back in the early 90's it was fresh original and well made, slowly as the seasons progressed the shows quality regressed, finally it ended, after 8 uneven seasons I no longer had force myself to watch this once great show out of some sort of misguided loyalty.

For some reason(clearly to milk the cash cow) they brought it back, I wonder if it will reinvent itself I thought, hoping it would get back to some sort of quality TV, Boy was I wrong, 24 - Live Another Day is one of the worst written TV series I have ever seen, Terrible doesn't even begin to describe how bad it is.

If you loved the early seasons of 24, then noticed the drastic decline in quality, I would say avoid this tripe, but hey, make your own kind of music.

…

Expand