Network:

NBC

Series Premiere Date:

Feb 22, 2014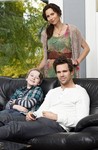 Starring:

Minnie Driver

,

David Walton

,

Al Madrigal

Summary:

Will Freeman (David Walton), a songwriter living off his royalties, finds his life changed by the arrival of Fiona (Minnie Driver) and her son Marcus (Benjamin Stockham) next door, in this comedy based on the Nick Hornby novel of the same name.

Genre(s):

Comedy
Creator:

Jason Katims

Season 1 premiere date:

Feb 22, 2014

Episode Length:

30
Please enter your birth date to watch this video:
You are not allowed to view this material at this time.
There's so much here to build on, from the strong performances to the chemistry between the stars to the sweet central story of two people helping each other mature.

Two sweet, funny, even poignant dramedies ["About a Boy" and "Growing up Fisher"] launch on NBC this weekend, both helping midseason feel richer than the meager offerings of the network's fall slate.

He [David Walton] and About a Boy are at its best in those disarming moments when Will lets down his guard and faces his grown-up responsibilities to teach Marcus how to enjoy the "total exuberance" of boyhood.

It's sweet but not syrupy. The pilot is so beautifully written and acted that it's difficult to offer any kind of resistance, flaws and all.

Produced by Jason Katims ("Friday Night Lights," "Parenthood"), About a Boy is snappy with some well-observed one-liners, but it's a fairly conventional sitcom about an unconventional family.

The show is a sweetened, Americanized version of the 2002 film of the same name starring Hugh Grant, which was itself adapted from Nick Hornby's 1998 novel.

Once you strip down the predictable jokes (Will teaching Marcus about "the bro code of silence"; letting Marcus eat forbidden barbecue ribs), you're left with a banal arrangement of gender and social stereotypes.
Happy to read that this show is being renewed for the Fall 2014 line up. The cast is awesome!! Stories are funny, heartwarming, and clever.

Happy to read that this show is being renewed for the Fall 2014 line up. The cast is awesome!! Stories are funny, heartwarming, and clever. I look forward to the show's return!!

…

Expand

Wonderful new show, great acting, always a moral regarding friendship at the end of the show. Good chemistry with all main characters. Hope

Wonderful new show, great acting, always a moral regarding friendship at the end of the show. Good chemistry with all main characters. Hope the show is around for a long time.

…

Expand

Feel-good show reminiscent of "Calvin and Hobbes" among other "buddy stories." The pilot was well-done, and the show has a lot of potential to

Feel-good show reminiscent of "Calvin and Hobbes" among other "buddy stories." The pilot was well-done, and the show has a lot of potential to grow into something even better.
"About A Boy," as well as "Growing Up Fisher" are two of the new shows on NBC worth getting excited about!

…

Collapse

Great pilot, Walton is no Hugh Grant but he is more then adequate and Minnie Driver lights up the screen. Only problem I can see is that the

Great pilot, Walton is no Hugh Grant but he is more then adequate and Minnie Driver lights up the screen. Only problem I can see is that the pilot was a synopsis of the movie, can the second episode build on that? Are the writers up to the task? Warm funny not too mushy, so far so good.

…

Expand

I was determined not to like this. I was pleasantly surprised. The kid is adorable abd Mimi Driver bright and sassy. She is a strange off

I was determined not to like this. I was pleasantly surprised. The kid is adorable abd Mimi Driver bright and sassy. She is a strange off kilter Mother that works. So far, so good.We will see if the writers will keep the show hopping and not redo each week the same show.The neighbor is a hunk with a heart he can't hide. A good start to a whacky, but potentially cute series.

…

Expand

I had to remake this review because i had some different feelings on the show . turns out about a boy is not funny But Jason Katmis created

I had to remake this review because i had some different feelings on the show . turns out about a boy is not funny But Jason Katmis created a good show. About a boy star Benjamin Stockham is a complete embarrassment to the series . Grade A

…

Expand

The pilot was great but by episode 10 of Season 1 the age appropriateness of Will 34 and 12 Marcus bein BFFs is now border-line boring ... and

The pilot was great but by episode 10 of Season 1 the age appropriateness of Will 34 and 12 Marcus bein BFFs is now border-line boring ... and not to mention getting creepy.

…

Expand