Network:

FOX

Series Premiere Date:

Nov 17, 2013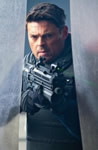 Starring:

Karl Urban

,

Mackenzie Crook

,

Michael Ealy

Summary:

The creative team behind Fringe (including producer J.J. Abrams and creator J.H. Wyman) returns with a new sci-fi crime drama set in the year 2048, when every Los Angeles police officer is paired with a robot partner. Karl Urban (Star Trek), Michael Ealy (Common Law), Lili Taylor (Six Feet

The creative team behind Fringe (including producer J.J. Abrams and creator J.H. Wyman) returns with a new sci-fi crime drama set in the year 2048, when every Los Angeles police officer is paired with a robot partner. Karl Urban (Star Trek), Michael Ealy (Common Law), Lili Taylor (Six Feet Under), Minka Kelly (Friday Night Lights), Mackenzie Crook (The Office), and Michael Irby (The Unit) star.

…

Expand

Genre(s):

Drama

,

Action & Adventure

,

Science Fiction
Creator:

J.H. Wyman

Season 1 premiere date:

Nov 17, 2013

Episode Length:

60
Please enter your birth date to watch this video:
You are not allowed to view this material at this time.
This late entry in the fall season is one of the best. [25 Nov 2013, p.43]

Beyond profundities laced with humor, the action drama from J.J. Abrams, created by "Fringe's" J.H. Wyman and starring Karl Urban and Michael Ealy, is a visual feast.

While its premise isn't new--anyone remember "Total Recall 2070" or "Mann and Machine"?--the show's ambition, solid cast and pure production values make it a worthwhile diversion.

If you can look past a few disquieting flaws and get past that odd feeling that you've seen it all before, you'll find the bones of a potentially entertaining series in Almost Human.

Generic cop heroes aren't always a problem if the show around them boasts other interesting characters or an intriguing premise. Almost Human has both, but, sadly, everything else in the show's universe takes more after the Urban side of things than the Ealy.

It's hard to fall in love with a world that feels...borrowed.

Another dull example of the manufacturing of sci-fi factory goods with the (increasingly devalued) J.J. Abrams label slapped on.
I haven't enjoyed a sci-fi show like this in a long time. The acting is solid and you can really connect with the main characters in the show.

I haven't enjoyed a sci-fi show like this in a long time. The acting is solid and you can really connect with the main characters in the show. Looking forward to each new episode. Together with the walking dead it's the only TV time I'm setting aside right now (until GOT restarts) everything else seems so beat/boring.

…

Expand

This show is by far the best thing to hit the TV this fall. Special effects are Top notch for a television show. Karl Urban is great as usual

This show is by far the best thing to hit the TV this fall. Special effects are Top notch for a television show. Karl Urban is great as usual and I really like the chemistry him and his android partner are developing. If you are looking for something with action, humor and a good sci-fi storyline.....watch this show!!!!!!!

…

Expand

Very good. Solid acting, great visual effects, promising story. And most important thing that there was no good TV series in this cyberpunk

Very good. Solid acting, great visual effects, promising story. And most important thing that there was no good TV series in this cyberpunk climate till now. Looking forward to next episodes

…

Expand

The show is still in its infancy. There's certainly a lot of potential here. It's a little bit weak at times but it has a lot of very awesome

The show is still in its infancy. There's certainly a lot of potential here. It's a little bit weak at times but it has a lot of very awesome aspects to it.

…

Expand

Though I have seen this idea before, I like the characters and their interactions. Just enough in the future to make the setting interesting.

Though I have seen this idea before, I like the characters and their interactions. Just enough in the future to make the setting interesting. I'll keep on watching.

…

Expand

Its way better than most of the rubbish out there. The show has action, and Karl Urban does a good job. The guy who plays as the robot rills

Its way better than most of the rubbish out there. The show has action, and Karl Urban does a good job. The guy who plays as the robot rills fits his role. This show is done an injustice with its odd air times and has been treated poorly by Fox. I hope it doesn't get cancelled.

…

Expand

I watched up until Episode 4 where right at the end Detective John Kennex mercilessly executed Captain Alexio Barros (a dirty cop). He shot

I watched up until Episode 4 where right at the end Detective John Kennex mercilessly executed Captain Alexio Barros (a dirty cop). He shot him in the head and then basically went "pppf"!! I guess they didn't have enough evidence to prove the guy was corrupt? I lost all respect for the main character of the show right then and there.

In addition, what a ridiculous idea for a plotline!? They find out the bad guys are looking for a new chemist so they sign up their resident nerd to go undercover. It was obvious that the guy wasn't up for the task, but they put in him danger of his life anyway - almost like a bunch of college kids forcing one of their initiate outcasts into a harmless party prank. It was an eye-rolling moment.

At first there seemed to be so much going for this show - some great production names like Bad Robot & J.J. Abrams, such a great cast, some impressive special effects, and the unique futuristic AI premise, but the nonsensical writing went off the rails.

I'm relieved that this show wasn't renewed for a second season because now I don't have to watch it just on the principle that it was a promising new sci-fi series. I won't even feel guilty for not finishing Season 1.

…

Expand