Network:

BBC America

Series Premiere Date:

Jun 21, 2014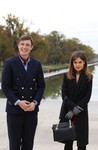 Starring:

Ed Sanders

,

Amy Hoggart

Summary:

Sheltered brother-and-sister aristocrats Georgie (Ed Gamble) and Poppy Carlton (Amy Hoggart) travel across to America.

Genre(s):

Comedy
Season 1 premiere date:

Jun 21, 2014
Gamble and Hoggart are credited as "per­formers" on the show and are also writers­ for the series, and their ability to ad-lib and play with anyone and every­one they come in contact with is a joy to watch, proof you can say almost anything to anyone, no matter how outrageous, so long as you maintain an air of innocence. Or stu­pidity.

Imagine Borat's vibe with Summer Heights High's spirit--definitely worth a peek, if that's your cup of tea. [20 Jun 2014, p.60]

Most of the people [Ed Gamble and Amy Hoggart--who pose as Georgie and Poppy Carlton] encounter seem to believe they're being filmed with real British aristos on a travel-type show about the U.S. Their surprise--and polite attempts to hide it--at the things the visitors from England say is the funniest part of the show.

Fortunately, Gamble and Hoggart can be quite funny in their pretended confusion. Their strategies are sometimes too obvious, but often the humor takes a nicely absurdist turn.

There's a lack of conviction to Almost Royal's premise that means the funniest parts are only just mildly funny.

Almost Royal is not a series that demands to be watched, but it's a cute diversion for Anglophiles looking for intermittent laughs.
It really is superb. Awkwardly so. Watching two actors who are so good at improvising on the spot, it's amazing to see. Lots of cringe, lots

It really is superb. Awkwardly so. Watching two actors who are so good at improvising on the spot, it's amazing to see. Lots of cringe, lots of laughs. I'm a little biased being English, and from the royal counties, but it really makes for excellent viewing. I guess it takes a certain taste. If you like things like Borat & Bruno, this is your thing.

…

Expand

I pretty much suspected that this show might be a bomb, or at least a fizzle. Surprisingly, it is not. This is not great television, but it

I pretty much suspected that this show might be a bomb, or at least a fizzle. Surprisingly, it is not. This is not great television, but it is pretty amusing. Spoiler alert -- no it's not! This show has two innocent, a bit dumb actually, Brits wandering through locations in America, Hollywood being the first. You are forced to think of them as William and Kate, but not really. The initial Hollywood show turned out to be a gentle take-down of Hollywood as much as anything else. I certainly hope Rick Moranis was watching.

…

Collapse

It's not the funniest program on television (and it's not a patch on films or television programs like 'Borat: Cultural Learnings of America

It's not the funniest program on television (and it's not a patch on films or television programs like 'Borat: Cultural Learnings of America for Make Benefit Glorious Nation of Kazakhstan', 'The Dictator' or 'Phonejacker') but 'Almost Royal' is still pretty funny. Ed Gamble (who I have already become a fan of due to 'The Peacock and Gamble Podcast', which I thoroughly recommend) and Amy Hoggart (who I have never seen before, but I think is equally funny) are very skilled improvisers and have some very funny bursts and then some reasonably amusing sections for the rest of the show.

It's quite funny, but more for background TV.

…

Expand

This show is absurd, and not in a good way. I could almost feel my brain draining out of my head as I watched it.

Comedies are often anThis show is absurd, and not in a good way. I could almost feel my brain draining out of my head as I watched it.

Comedies are often an escape for those who watch them, but I know that I do not want to escape to any place that is showing Almost Royal. Indeed, Almost Royal is something to escape from.

…

Expand

Better name is "Almost Watchable". The trailers usually tell the tale. This is no exception. The trailers are juvenile, poorly presented and

Better name is "Almost Watchable". The trailers usually tell the tale. This is no exception. The trailers are juvenile, poorly presented and an insult to the intelligence of the viewing audience. So very stereotypical in the presentation. Inane dialogue, repeating "have you come far..." over and over. The critics hail it as being spontaneous and funny. How is REPEATING the same old tired dialogue spontaneous.

The idea that they would not know which was the White House is an insult to our intelligence. Is every building in Britain Windsor Castle or Buckingham Palace? Does every clock tower house Big Ben?

The premise is idiotic and the dialogue pure drivel.

Whenever possible I will avoid the trailers. I definitely will NOT watch an entire episode.

…

Expand

rip off of a much funnier pilot I saw a few years back .. I have to write 150 characters here for a review but haven't got much more to say

rip off of a much funnier pilot I saw a few years back .. I have to write 150 characters here for a review but haven't got much more to say .. characters in the other one much funnier was it the writing or the actors? I dunno, but i remember thinking it was really really funny - this is not.

…

Expand