Network:

Netflix

Series Premiere Date:

Feb 2, 2018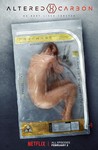 Summary:

Set 300 years in the future where consciousness can be stored digitally, a soldier named Takeshi Kovacs (Will Yun Lee/Joel Kinnaman) awakens in a new body when he is freed from prison by Laurens Bancroft (James Purefoy), who wants him to find who killed his previous body in the sci-fi series

Set 300 years in the future where consciousness can be stored digitally, a soldier named Takeshi Kovacs (Will Yun Lee/Joel Kinnaman) awakens in a new body when he is freed from prison by Laurens Bancroft (James Purefoy), who wants him to find who killed his previous body in the sci-fi series based on Richard K. Morgan's 2002 novel Carbon.

…

Expand

Genre(s):

Drama

,

Action & Adventure

,

Science Fiction
Season 1 premiere date:

Feb 2, 2018

Episode Length:

60
Think of Altered Carbon as a cyberpunk "Game of Thrones," except that winter is already here, three centuries into the future.

The roads that Altered Carbon takes to its destination aren't new to us but enough of us have enjoyed previous versions of these trips to appreciate this version of the ride.

When the season does intermittently sag beneath the weight of its extensive world-building and philosophical inquiries, Altered Carbon still manages to enthrall audiences with a winding detective mystery told in timeless noir fashion.

When the series gets too far away from the Bancroft investigation, Altered Carbon stumbles.

Altered Carbon is so busy trying to wow viewers by constantly one-upping the imagery and the intensity that it barely pauses to consider its story. The writing is also distinctly clunky: a hodgepodge of vacant platitudes and canned spirituality.

A lot of Altered Carbon is very silly, mostly whenever any of the principals converse. Trite dialogue prevails. ... If you like your sci-fi good-lookin' and tough talkin', I heartily recommend Altered Carbon. Me, if I want a dose of steely speculative fiction, I'll reread my old paperbacks of novels by Pat Cadigan and Lewis Shiner.

Netflix has taken more than a few flyers on big, splashy, time-wasting projects, and Altered Carbon -- a sci-fi experiment gone awry -- joins that pantheon of the quickly forgettable. Based on Richard K. Morgan's novel, the series looks great -- starting with Joel Kinnaman, who spends a lot of time showing off his commitment to the gym -- but in terms of substance, offers little more than an empty sleeve.
Easily my favorite show on Television right now, I'm a massive fanboy of Game of Thrones, so that's saying a lot for me. I'm a huge scifi

Easily my favorite show on Television right now, I'm a massive fanboy of Game of Thrones, so that's saying a lot for me. I'm a huge scifi nerd, and this show manages to keep a non-cheezy atmosphere, which is hard to do in this genre. Definitely a good show for Netflix, and I hope they keep on renewing it for many seasons to come.

…

Expand

The best fantastic TV series. Shoot very artistically. You are transferred to the world of the future, very realistically created the world

The best fantastic TV series. Shoot very artistically. You are transferred to the world of the future, very realistically created the world around you. Joel Kinnaman plays so convincingly that I cried when watching some scenes. So many foreshortenings, correctly constructed by composition. The color and lighting solution, the atmosphere of the series - all this helps a lot to plunge into the plot and get a lot of pleasure from viewing. Characters are revealed gradually, they are all interesting. You empathize with the protagonist from and to. I hope the continuation will be.

…

Expand

The cast, acting, music, cgi we're spot on. The ambiance give it a really unique feel almost like blade runner. I read the book a few months

The cast, acting, music, cgi we're spot on. The ambiance give it a really unique feel almost like blade runner. I read the book a few months ago and i'm really glad they didn't sell out and followed the book so closely, the small details are what really makes it. I can't speak highly enough of this show great book adaptation easy 10/10

…

Expand

Glad Netflix paid the money to get this produced. The special effects and numerous subtle touches helped you to be more fully immersed oin

Glad Netflix paid the money to get this produced. The special effects and numerous subtle touches helped you to be more fully immersed oin the story. As others have said, the Blade Runner like future approach was very well done and unique enough to give its own feel. This was a welcome addition to the binge library.

…

Expand

Overall very good if you like sci fi. Plot may be too complicated for some but I liked its deepening backstory. First episode was intriguing

Overall very good if you like sci fi. Plot may be too complicated for some but I liked its deepening backstory. First episode was intriguing but second or third a bit iffy, but story got more interesting. Glad I kept watching. It could stand alone as a story but a second season would be welcome in our household of adults and older teens.

…

Expand

250 years into the future and we have fist fights, monitors with frames, dying, cigarettes and actual sex, DYING AGAIN ? Themes copied from

250 years into the future and we have fist fights, monitors with frames, dying, cigarettes and actual sex, DYING AGAIN ? Themes copied from Blade Runner and Ghost in the Shell but frakked up real nicely worse than their remakes.... This really sucked ass big time and it's one of the sloppiest future visions I've ever seen.

…

Expand

This review contains spoilers

, click expand to view

. Could not pass the pilot. The ending just got me on my nerves.

"I don't want to work for the millionare guy. But wait, the female character is telling me i have to accept the job just because. For the sake of mistery. Ok, so it's decided, i'll take the job"

That was it. Bye bye Altered Carbon.

…

Expand