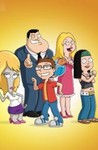 Starring:

Scott Grimes, Seth MacFarlane, Rachael MacFarlane

Summary:

American Dad! from Family Guy creator, Seth MacFarlane, is the animated story of Stan Smith, who works for the CIA and is constantly on the alert for terrorist activity. Stan will go to extremes to protect his beloved America from harm – as evidenced by the terror-alert color code on his

fridge, and his frequent knee-jerk reaction of shooting holes in the toaster whenever the toast pops up. Production Company: 20th Century FOX.Also see Family Guy.Character Guide:Stan Smith - Stan works for the CIA, and is constantly on the look-out for terrorists. He loves his family and will do anything to protect them, and his country. Francine Smith - Stan's wife, she has had a past life of drugs, but she has carefully hidden her party-girl personality for the sake of the conservative man she loves. She met Stan after college.Hayley Smith - The teenage daughter of the family, currently attending community college. Despite her father's best efforts she has turned out to be a left-wing liberal. Stan loves his daughter, but that doesn't necessarily mean he trusts her. Steve Smith - The dorky son, he tries to act cool, but fails. Steve is on the verge of puberty - but he just can't quite make it. His low social status sometimes leads him to taking drastic action - but no matter what he does, he's just a dork. Roger - A sarcastic alien rescued by Stan from Area 51. He resents not being allowed to leave the house, so has resorted to drinking wine and smoking cigarettes.Klaus - A German-talking goldfish, he was a CIA experiment that went horribly wrong when they tried transplanting a German man's brain into a goldfish. Klaus lusts after Francine, and will take any opportunity that comes his way.Theme Song Lyrics:Stan: Good morning, USA!
I got a feeling that it's gonna be a wonderful day! The sun in the sky has a smile on his face!
And he's shinin' a salute to the American race!
Oh boy, it's swell to saaay!
Good morning, USA!
(Good morning, USA!)-------------------------------------------------------------------------------------(All Times Eastern)FOX Broadcast History
May 1st, 2005 - May 15th, 2005 --- Sundays, 9:30 PM
June 5th, 2005 - June 26th, 2005 --- Sundays, 9:30 PM
July 24th, 2005 - October 2nd, 2005 --- Sundays, 9:30 PM
October 30th, 2005 - February 26th, 2006 --- Sundays, 9:30 PM
April 23rd - May 14th --- Sundays, 9:30 PM
September 10th - September 24th --- Sundays, 8:30 PM
November 5th - January 7th --- Sundays, 8:30 PM
January 28th - Current --- Sundays, 9:30 PMFOX Repeats
June 26th, 2005 (Ep: "Threat Levels") --- Sunday, 9:30 PM
July 24th, 2005 - September 4th, 2005 --- Sundays, 9:30 PM
October 30th, 2005 (Ep: "Stan Knows Best") --- Sunday, 9:30 PM
December 4th, 2005 - December 11th, 2005 --- Sundays, 9:30 PM
June 4th (Ep: "Francine's Flashback") --- Sunday, 9:30 PM
July 9th - August 13th --- Sundays, 8:30 PMFOX Special Presentations
February 6th, 2005 --- Sunday, 11:15 PM---------------------------------[adult swim] Broadcast History
May 12th, 2005 - May 26th, 2005 --- Thursdays, 11:00 PM June 16th, 2005 - June 30th, 2005 --- Thursdays, 11:00 PM
September 22nd, 2005 - October 13th, 2005 --- Thursdays, 11:00 PM
November 17th, 2005 - November 24th, 2005 --- Thursdays, 11:00 PM[adult swim] Repeats
May 13th, 2005 - May 27th, 2005 --- Fridays, 2:00 AM
May 15th, 2005 - May 22nd, 2005 --- Sundays, 11:30 PM
May 16th, 2005 - May 23rd, 2005 --- Mondays, 2:30 AM
June 17th, 2005 - July 1st, 2005 --- Fridays, 2:00 AM
June 19th, 2005 - July 3rd, 2005 --- Sundays, 11:30 PM
June 20th, 2005 - July 4th, 2005 --- Mondays, 2:30 AM
September 23rd, 2005 - October 14th, 2005 --- Fridays, 2:00 AM
September 25th, 2005 - September 25th, 2005 --- Sunday, 11:30 PM
September 26th, 2005 - October 17th, 2005 --- Mondays, 2:00 AM
October 2nd, 2005 - October 16th, 2005 --- Sundays, 10:00 PM
November 6th, 2005 - January 29th, 2006 --- Sundays, 10:00 PM
November 7th, 2005 - January 30th, 2006 --- Mondays, 2:00 AM
November 18th, 2005 - November 25th, 2005 --- Fridays, 2:00 AM
April 9th - April 23rd --- Sundays, 10:00 PM
April 10th - April 24th --- Mondays, 2:00 AM[adult swim] Special Presentations
February 13th, 2005 (Ep: "Pilot") --- Sunday, 11:30 PM
February 17th, 2005 (Ep: "Pilot") --- Thursday, 11:30 PM

…

Expand

Genre(s):

Comedy

,

Animation
Show Type:

In Season

Season 1 premiere date:

Feb 6, 2005

Episode Length:

30

Air Time:

09:30 PM
Mostly a hoot. [4 Feb 2005]

In its early episodes, "American Dad" not only follows the lead of "Family Guy" but also throws in digs at U.S. political institutions. [1 May 2005]

Feels forced.... What "American Dad" really resembles most is the less-funny outtakes from "Family Guy," done in a way that doesn't even pretend to be original. [4 Feb 2005]

To call "Dad" derivative of "Family Guy" would be an understatement. [28 Apr 2005]

Lacks bite.... The series aspires to pick up where 'The Simpsons' and 'South Park' left off, but many of its jokes and cultural references seem off. [4 Feb 2005]

The pilot aspires to outrageousness, but the humor needs to get a whole lot smarter.

The only fun is in trying to enumerate how many ways it's offensive. [30 Apr 2005]
I'll admit, I watched the first few episodes when it first aired and did not like it. But years later, after watching a full season and

getting to know the characters, I like it better than Family Guy. It might not be for everyone's sense of humor, but if you like Family Guy, then you'll probably grow to like American Dad! equally if you give is a fair chance.

…

Expand

So Amazing! So Funny! Rodger Is The Heart And Soul Of Ths Show!
The Jokes Are So Funny Great Show If You Like Family Guy You;ll Like This!